CIT Men's Soccer Club Crowned CUFL All-Ireland Futsal Champions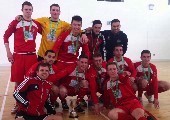 Published on: Friday, 26 April 2013
CIT Men's Soccer Club were crowned CUFL All-Ireland Futsal Champions in Gormanstown on Tuesday 23rd April.

Five teams qualified for the National Finals after playing in the regional finals back in November, where CIT also overcame close rivals UCC among others.

Each team played the other once and then the top two played off in the final. CIT were unbeaten in the group stages, finishing top while NUI Maynooth finished second.
Results of the group stages:
CIT 6-2 IT Tallaght
CIT 2-1 Athlone IT
CIT 3-2 IT Carlow
CIT 0-0 NUI Maynooth

The final saw CIT produce one of the best displays of Futsal ever seen in Colleges and Universities Futsal in Ireland. Within five minutes CIT lead 3-0, bursaries students Mark Reardon and Eoin McGreevy were at the heart of every great CIT move. Other strong performers for CIT were Wesley Tong and Barry O' Sullivan whose past experience in the European Futsal Championships in Finland in 2010 was clear throughout. Maynooth controlled most of the possession while CIT played classic Futsal counter attacking football and amazingly won the final 8-1 with an incredible performance.

Mark Reardon, 4th year Accounting student, picked up the player of the tournament, his strength, power, technique, dribbling ability and finishing was applauded by all and rightly so picked up the award.

CIT will now have the opportunity to travel to Malaga and play in this year's Colleges/Universities European Futsal Championships.

Squad:
Barry Galvin
Wesley Tong
Barry O' Sullivan
Eoin McGreevy
Mark Reardon
Eoin Healy
Craig Robinson
Luke O' Sullivan
Ryan Carroll
Alan Anderson

Coach: Colin Kearney – ex CIT student and member of the European Futsal Championship squad 2010.