CIT & Enterprise Ireland to spend €850,000 on 'New Frontiers' Entrepreneur Programme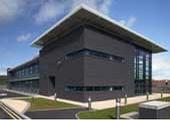 Published on: Friday, 26 April 2013
CIT, along with Enterprise Ireland, will spend €850,000 to run the New Frontiers Programme, a national programme which targets new entrepreneurs with the commitment and capability to develop and deliver sustainable businesses, over the next three years. The aim of the programme is to produce companies eligible for Enterprise Ireland's high-potential start-up supports.
The New Frontiers Programme in CIT's Rubicon Centre is a six-month, rapid incubation programme that provides a comprehensive range of supports to innovative start-ups to help them establish their business successfully in a structured and focused environment. Programme participants are equipped with the practical skills, expertise, networks and tools necessary to develop an idea into a solid business and learn how talk to the market, raise investment capital and launch their product, or service, in the marketplace.
The Rubicon Centre Manager, Paul Healy says, "It is hard to put the programme's success down to any one thing, it really is the overall business package which participants experience on the New Frontiers Programme (formerly Genesis Programme). This includes free office facilities; the opportunity to work with other entrepreneurs based in the Rubicon Centre; onsite access to CIT expertise; personal and business development workshops; business mentors; access to funding; network opportunities; access to CIT's Entrepreneur in Residence and to the programme partners, including Enterprise Ireland, and the Cork City & County Enterprise Boards. In addition to this, a €15,000 grant is paid to successful participants for Phase 2."
New Frontiers is open to start-ups across various sectors including energy and environment, food, photonics, information technology, mechanical engineering, medical devices, biotechnology, media and internationally traded services. Some well-known businesses include Abtran, Amocom, Crest Solutions, Cully & Sully, Comnitel, Treemetrics, Weddingdates.ie and Wavebreak Media.
Two of last year's companies, Zeto and Safecare Technologies, have used the programme to bring their ideas to market. The Zeto platform is an innovative management solution for operators of refrigeration equipment in the food display and storage sectors. Safe Care Technologies provides solutions for the emerging assisted living market and creates software for existing hardware that allows the disabled, impaired, or elderly, live a more independent life within their home.
While applications and queries are welcome throughout the year, the closing date for receipt of applications for the next 6 month New Frontiers Programme is May 10th and the programme will commence on June 4th 2013.

For further information please see www.enterprise-ireland.com/new frontiers or www.rubiconcentre.ie or contact the Rubicon Centre on T: 021-492 8900.