Brian O'Riordan wins the Irish Concrete Society Student Prize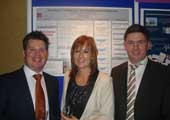 Published on: Tuesday, 30 April 2013
On 26th April, the Irish Concrete Society Annual Awards event was held in Dublin.
Brian O'Riordan (graduate of BEng(Hons) in Structural Engineering) won the Irish Concrete Society Student Prize (Sean deCourcy Award), which is awarded for the best final year project on an accredited civil engineering programme on the island of Ireland. Detailing to Eurocode2 was the successful project of student (now graduate) Brian O'Riordan (supervisor Ted McKenna); congratulations to Brian and to Ted. Brian has worked with Fehily Timoney & Company, Consulting Engineers, since completing the BEng (Hons) course last summer.

The achievement is particularly remarkable in that this is now the third year in succession in which a graduate of the BEng (Hons) in Structural Engineering programme has won the award (Michael Minehane 2009/10 and Daniel Coleman 2010/11); such success at this level, in competition with projects from DIT and from the traditional civil engineering university sector courses, is testament to the quality of the BEng (Hons) in Structural Engineering programme and the quality of the project work undertaken in final year projects – well done to all concerned.

There was further good news for the Department in one of the three main category industry awards when the much heralded Mizen Head Bridge project won the Infrastructural Category award. The Structural Engineer responsible for the design of the reconstruction works is our colleagues Kieran Ruane while the Resident Engineer during the construction phase of the work was BEng(Hons) in Structural Engineering graduate Ross O'Donovan; Ross is currently undertaking a research MEng in the Department in relation to the durability of the concrete in the original 100 year old Mizen Bridge structure (supervisors Kieran Ruane and Brian O'Rourke).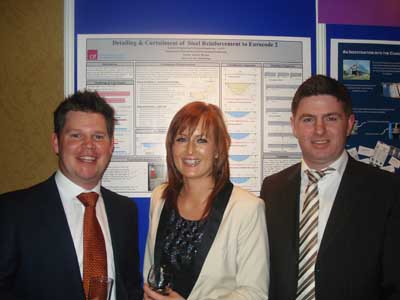 (L-R) Brian O'Riordan (Sean DeCourcy Prize winner); Sarah Ryan (Brian's fiancée, also a BEng (Hons) graduate of 2012); and Ted McKenna (Project Supervisor).