TEC@Nimbus Industry Open Day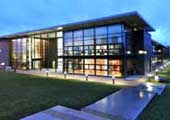 Published on: Friday, 03 May 2013
Cork Institute of Technology's TEC@Nimbus Centre is hosting an Industry Open Day on Friday 14th June from 10am to 2pm.
TEC@Nimbus is part of the Nimbus Centre, Ireland's only research centre dedicated to networked embedded electronics and software solutions. The Centre won nearly €3 million in research funding in 2012. With 50 dedicated staff working on 30 – 40 projects at any one time, the Centre acts as a "One Stop Shop" industry technology gateway offering complete system solutions for industry.
Are you looking for new ideas for technology innovation in your company? If so come and see how we can help. The Open Day will inform the innovation services offered to Start-ups, SMEs and large enterprises across Ireland. It will also be possible to see some technology demonstrations in our state-of the-art laboratory and network with some of our industry clients.
This is a free event and is open to Startups, SMEs, large multi-nationals, investors, relevant government agencies and professional service companies who want to develop new ICT technologies in Energy, Water, Location Based Services or are interested in opportunities in the sectors. TEC@Nimbus is funded by the Enterprise Ireland Technology Gateway Programme.
To register please contact Sinead Rodgers at sinead.rodgers@cit.ie or call 021-4335569.

Visit http://www.tec-centre.ie and http://nimbus.cit.ie for more details.