Event: Students organise a Charity Art Auction for CUH Children's Unit
Thursday, 16 May 2013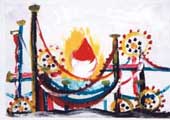 A charity Art Auction will take place on Thursday May 16th at Cork Institute of Technology in The James Barry Exhibition Centre (Bishopstown Campus). The students of the Early Years Education and Montessori Programmes, under the guidance of lecturer Evelyn Egan Rainy, have created unique and individual mixed media artwork, ideal for display in a child's bedroom or early child care setting, and every piece is for sale.
The Auctioneer on the night is Cork's favourite entertainer Pakie O Callaghan. An opening reception, and preview of the work, will be held at 7pm and the auction begins at 7.30 pm. This is a great opportunity to get a once-off piece of artwork and help fund a very worthy cause as all proceeds will go directly to the CUH Children's Unit.
CUH's Children's Unit needs your money, so come along, buy a piece, enhance your space and support a good cause!
For full details and venue directions see arts.cit.ie and arts.cit.ie/viewEvent?id=95