CIT researchers develop new vaccine approach for enteric disease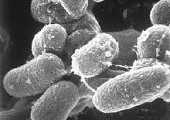 Published on: Wednesday, 08 May 2013
Researchers at the Biology Department at CIT have just developed and published a novel strategy which could improve the way in which vaccines work. Final year PhD student Chris Johnston and his supervisory team of Dr Jim O'Mahony, Dr Roy Sleator and Dr Aidan Coffey have published their findings in the prestigious journal "Pathogens and Disease" this month.
Their objective was to produce a vaccine to target the pathogen "Mycobacterium avium ssp paratuberculosis" which causes chronic disease in ruminants and costs the global dairy industry an estimated $1 billion annually. Although still in the early stages of development, their approach modified the way in which a vaccine delivery strain processes the stimulating antigen.
Their results achieved a greater than 37 fold increase in antigen expression which is hugely significant compared to conventional approaches. Many steps need to be overcome before this strategy has proven efficacy in animals susceptible to disease, but the researchers have taken a major step forward in offering a much needed solution to this global problem.