IT Skills Gap Addressed As First CIT Cloud Computing Graduates Conferred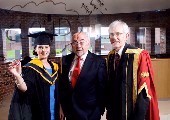 Published on: Thursday, 09 May 2013
Ireland took a major step forward in closing the IT skills gap as the first Cloud Computing graduates were conferred today at a ceremony in Cork Institute of Technology (CIT) in the presence of the Minister for Education and Skills, Ruairí Quinn, T.D. A leader in the provision of education in the sector, in 2012 CIT launched the world's first suite of Masters and Undergraduate Degree programmes in Cloud Computing. These programmes
are targeted at graduates from non-computing disciplines to match the needs of industry.
Graduates from the CIT Cloud Computing programmes possess the key in-demand skills that industry requires. CIT is now a major player contributing to the growth of a cloud eco-system within Ireland and providing graduates with the necessary skills to fuel Ireland's ambition to become a key global location for the expansion of the cloud computing industry.
BSc and MSC students study part-time and the programmes are delivered using cloud based online technologies; learning about cloud computing in the cloud. Online learning environments are used throughout the programme to enable learning to take place anywhere, at any time. CIT's state-of-the-art systems, combined with sophisticated learning environments, enable students to achieve the measurable learning outcomes in the most flexible way possible. All lectures are streamed live and each session is captured and stored in the cloud for later retrieval by students. This facilitates lecture review, revision, and enables students to access lectures and labs by simply using a web browser.
CIT President, Dr Brendan Murphy, said: "This graduation demonstrates how CIT staff are delivering on our mission of teaching, research, and engagement, to produce career focused graduates. Our engagement with industry in this exciting development has opened up new pathways for CIT in how we deliver to those in work and to those seeking work."
Minister Quinn said building the supply of talented ICT graduates to support the expansion and growth of our emerging sectors requires a coherent approach across Government, industry and the education system. "I am delighted to honour the achievement of the CIT graduates today. As well as up to date new qualifications in computing many of those who graduated today from the Springboard and ICT skills conversion programmes have significant business experience and workforce skills and have already been successful in securing employment. Since March 2012 more than 1,500 places have been provided on the ICT conversion programmes which are fully funded by the Department of Education and Skills."
Bob Savage, Chairman of CIT's Governing Body and Vice-President and Managing Director of EMC's Centre for Excellence said the new graduates mark a significant milestone in the development of the innovation society. "EMC enjoyed working with CIT and our industry partners in developing the Cloud Programmes which are helping to meet the skills needs of Ireland's vibrant IT Sector. Cloud is now transforming and disrupting global IT, offering the benefits of efficiency, control, choice and agility. Next-generation applications are being built on Cloud Architecture, so we will need the IT Professionals to service the growing demand," said Mr Savage.
A guest at the Conferring, John Dolan, Vice President, Global Technical Support at VMware said, "The relationship between VMware and Cork Institute of Technology has been consistently superb over the last eight years. Some of the achievements include CIT qualifying as a VMware Regional Academy and also the forward thinking BSc and MSc Cloud programmes which we have collaborated on as a team. CIT's Higher Diploma in Cloud Computing has already impacted positively on our company through the availability of high quality students that are trained in the specific skills required to meet our business needs. We very much appreciate the levels of flexibility, leadership, and speed of execution, shown by CIT and look forward to many more years of collaboration."
Tim Horgan, Head of Online Delivery at CIT said: "With CIT being the main provider of IT graduates in the region, it supplies a pipeline of skilled people that has enabled VMware, for example, to expand operations in Ballincollig as a result.
The MSc in Cloud Computing programme, which was developed in partnership with EMC, VMware, and partners, is now delivered in a global classroom to students in Russia, India, Saudi Arabia, Germany, France, Spain, UK, Netherlands, USA and Ireland."
The following awards were conferred at the ceremony: Higher Diploma in Science in Software Development; Higher Diploma in Science in Cloud Computing; Higher Diploma in Science in Cloud & Mobile Software Development; Bachelor of Science (Honours) in Cloud Computing; Master of Science in Cloud Computing, and Master of Science in Computational Biology.
For more information CIT's Cloud Computing Options or to apply online visit http://cloud.cit.ie/
Photographer: Darragh Kane

MSc Graduate in Cloud computing Emma Callanan with Ruairí Quinn, TD Minister for Education and Skills, and President of CIT, Dr Brendan Murphy at the first Cork Institute of Technology Cloud Computing graduation.

Graduates Ciara Conlon, Michael Mulcahy, and Rachel Donnelly.

(L-R) Graduate James O'Mahony; Arantxa Duque Barrachina; with John Dolan, VP Text Support VM Ware;
Sarah Abbott, Senior HR Director EMC Ireland; and Gordon O'Reilly, Programme Manager VM Ware.

Michael Loftus, Head of Faculty of Engineering & Science, CIT; with Graduate Niamh O'Brien and her son Louis O'Brien.

Graduates Alec O'Connell and Emma Callanan.

Graduates Jurate Daugelaite, Jenny Cotter, with Dr Barry O'Connor, Registrar & Vice President for Academic Affairs, CIT.

Graduate Denis Crowley with Dara Kennedy, and Johnny Crowley.

Graduate Shelia Sheehan, and Mary Davis, Lecturer, CIT.