Presentations & Demos hosted by Final Year Multimedia Students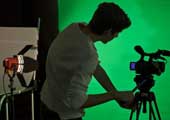 Published on: Sunday, 12 May 2013
An evening of presentations & demos hosted by the final-year students of the BA (Honours) in Multimedia, CIT CCAD.

The Multimedia Projects & Presentations @ the Berkeley (Library) Building CIT Bishopstown Campus – from 6pm - 8pm, 17th of May, runs for one evening only. Admission is free and is open to the public.

The theme of this year's final year project challenged the student to enhance the visitor experience of Cork City Gaol through the use of interactive digital media.

The work on show will include a virtual tour of the Gaol running on the Web infrastructure, a tactile digital game or groups of children, an interactive shadow maker to enhance the night tours in the Gaol, a digital arts piece inspired by the use of solitary confinement throughout the history of the Gaol and many more interesting applications of digital media.

On the evening the students will make a short presentation to describe their work. Following this, the students will stand by their work where there will be an opportunity to discuss their work in more detail.