First cohort of MSc in Computational Biology students graduate at the Institute's May Conferring Ceremony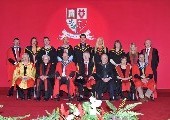 Published on: Tuesday, 14 May 2013
The Departments of Biological Sciences and Computing saw their saw its first cohort of MSc in Computational Biology students graduate at the Institute's May conferring ceremony. This year's address was delivered by Minister for Education and Skills Ruairi Quinn TD. In his speech the minister spoke of the challenges, both economic and technical, facing not just Ireland but all of Europe in a time of significant global change.
The minister commended CIT for its foresight in developing new technology driven interdisciplinary courses, equipping graduates with the skills necessary to succeed and thrive in an information driven society. In the biological sciences alone, large scale genomic sequencing projects have generated an ocean of new data which needs to be navigated successfully in order to identify and develop new therapies and technologies in the fields of science and medicine.
Our new MSc in Computational Biology graduates, with expertise in both Bio and ICT, are ideally placed to succeed in this data rich environment.