Portfolio Classes plus Art Therapy Summer School 2013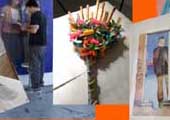 Published on: Thursday, 16 May 2013
Art Portfolio Preparation Course Summer and Autumn Courses
3rd - 11th July 2013
Please visit the newslink for information and application form.
___________________________________________________________________________________________________
Art Therapy Summer School 2013
Time delivery: 29 June – 3 July 2013
For details of workshops, accommodation, and terms and conditions, please click here to download course brochure
Download Application Form
www.artincontext.eu
Please contact louise.foott@cit.ie with any queries
The Art Therapy Summer School has been running for over two decades. Each year up to 60 individuals from Ireland and (increasingly) abroad converge on CIT Crawford College of Art & Design to explore the therapeutic potential of art through experiential workshops.



This year's workshop themes include the use of the Mandala or Sacred Circle in exploring the wholeness of self, and themes reflecting the current Irish context – offering opportunities to explore our inner artist, our relationship to money, and the importance of prioritising our physical and mental well-being in a world dominated by materialism and the pressures it puts on us.
Full fee for this course is €485, but there are a limited number of places still available at the early bird rate of €435. Closing date for short course applications has been extended.
Courses
Principles of Art Therapy Certificate
Arts in Group Facilitation Certificate
The Department of Art Therapy & Continuing Visual Education currently runs a range of Certificate courses in addition to the Masters programmes in Art Therapy, including the Principles of Art Therapy and the Arts in Group Facilitation Certificate. Both of these courses explore creativity and art making within a social context and the differing roles it can play, one focusing on therapy, the other on empowerment. Art making within a social context often brings about transformation for the individuals and groups involved. Exploring the means to, and potential for, this transformation is a key concern of the Department.
The certificate courses enable art practitioners, as well as professionals interested in the role a creative medium has in transformation, to bring their own creative skills to a social context and in turn develop their career opportunities. The Principles of Art Therapy Certificate is particularly suited to individuals who are considering training as an Art Therapist in the future. The Arts in Group Facilitation Certificate is more focused on the practical skills of planning and running creative workshops with groups in a range of non-formal contexts. Participants learn these skills through visual arts, drama, dance, music, and reflective learning processes.
The closing date for applications to both these courses has been extended and we are very interested in hearing from anyone interested in applying. Interviews will be held in June.