CIT and Cork City and County Councils Water Technology Group for the Cork Region: Phase 2 launch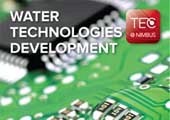 Published on: Monday, 10 June 2013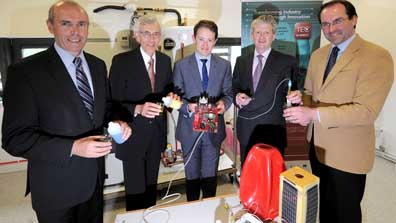 Tim Lucey, Cork City Manager; Dr Brendan Murphy, President, CIT; Seán Sherlock TD, Minister of State for Reserach & Innovation; Martin Riordan, Cork County Manager, and Dr Kieran Delaney, Research & Development Manager, CIT Nimbus Centre, pictured at the launch of the second phase of the Innovation hub to address Ireland's water infrastructure in the Nimbus Centre, CIT on Monday 10th June.
Photographer Pascal Ungerer

The Water Systems and Services Innovation Centre (WSSIC) is a joint venture between Cork City Council, Cork County Council and the Nimbus Centre at Cork Institute of Technology. The WSSIC is on track to create an expert resource in modernising Ireland's water infrastructure by taking advantage of Nimbus' technological expertise and leveraging both Councils' experience in Water Resource operation.
Continuing the momentum of the successful first phase, the WSSIC Centre Manager will link closely with high potential businesses in the region to actively innovate and solve problems within the water sector. The WSSIC team evaluate new solutions in water and waste water management at the earliest possible stage and develop end-to-end solutions that show good evidence of high potential return on investment. The economic potential of this will be enormous, translating into profit for local business, providing employment and opportunity, while in tandem driving a clean environment agenda.
The WSSIC is an excellent opportunity to showcase the innovation and leadership that Cork provides in terms of water management. These problems can be effectively addressed with the synergy of vast expertise and experience from the councils and industry in conjunction with the advanced technological capabilities of Nimbus.
Seán Sherlock TD, who will be present at the launch, said "This innovation hub will help provide better water services for the people of Ireland. In doing so, the innovation hub will create new, innovative, industry opportunities and jobs, while promoting Ireland as the sector leader on the European stage."
Dr Brendan Murphy, President of Cork Institute of Technology, will be one of the main speakers at the launch. He says "This exciting initiative is an example of CIT's innovation ecosystem working for Ireland. Our goal is to take this into the Nation's communities and create a new kind of innovation that impacts on our daily lives and inspires creativity."
The WSSIC will harness state-of-the-art technology, innovations and leadership in water quality monitoring, leakage reporting & repair, remote monitoring and much more. New ideas and technology developed in WSSIC can have global impact, positively influencing the major political, environmental and humanitarian issues caused by water supply and quality. The resulting advances will be rolled out across County Cork, with a view to deploying to all city and county councils in Ireland. Alongside more efficient water services and monitoring processes, the WSSIC will be used as a catalyst for the creation of new Irish-based enterprise and jobs.
The WSSIC will establish and actively use 4-6 high impact test-beds for assessment and trials, located at appropriate City and County sites and promote Cork as an internationally recognised cluster of water systems and services organisations. This will translate innovation excellence into sustainable regional and national economic development and job creation.
The Nimbus Centre is equipped with state-of-the-art facilities and equipment for embedded systems research, development and demonstration. The Centre's sixty five researchers and engineers also focus on hardware, systems integration and networking in application fields such as smart cities, energy, security, transport and user interfaces. Nimbus has extensive involvement with Irish SMEs, which will also be exploited for technological advances.

This innovation initiative is led by Dr Kieran Delaney, Lead Innovator with the Nimbus Centre.
Contact details:
Dr Kieran Delaney
E: kieran.delaney@cit.ie,
T: 021 433 5567