WE LIVE BY THE RIVER... the Lee & the Rhine!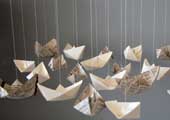 Published on: Tuesday, 11 June 2013

CIT Wandesford Quay Gallery
021 4335210 | ccad.gallery@gmail.com
Open 10 – 6: Wed / Thurs / Fri / Sat
@wandesfordquay
Cork and Köln are twinned 25 years this year. To celebrate this anniversary, an exchange of art exhibitions is taking place: Backwater Artist Group members in The Rathaus, Cologne 28 May - 10 June, and GEDOK Köln members in CIT Wandesford Quay Gallery 14 June – 6 July.

WE LIVE BY THE RIVER opens in CIT Wandesford Quay Gallery Friday 14 June at 6pm. The theme is 'coming and going' relating to the river. The exhibition will be opened by Deputy Lord Mayor, Joe Kavanagh.
Angelika Wittek, Beate Gördes, and Hiltrud Gauf are the featured artists. Wittek has created 'Shipping Traffic' (pictured above), an installation of 1,000 paper boats suspended from the ceiling of CIT Wandesford Quay Gallery. Gördes is exhibiting several video pieces as well as a sound installation made up of sounds of Köln city, a piece developed especially for this exhibition. Gauf's work in conceptual drawing; she has two series of drawings, 'Swimmers', done with charcoal on paper, which abstract the form of swimmers by framing sections of their bodies. Gauf also has delicate pencil drawings of the Rhine and the Tiber.
Maureen Considine, Tracy Fitzgerald, Jo Kelley, Susanne Leutenegger, and Tony Magner of Backwater Artists Group exhibit at the Rathhaus in Cologne.
Curated by Tina Darb, a Cork based curator, writer and artist.
Part of the Cork Midsummer Festival programme.

| | |
| --- | --- |
| Still Leaving Cologne by Beate Goerdes | Swimming 2 by Hiltrud Gauf |


GEDOK Köln was founded in 1929 and is one of 23 regional groups of the nationwide GEDOK Association. Since its inception, it is committed to the equal recognition of women in the art world and its appropriate position in the cultural policy. The association presents itself to the public through interdisciplinary projects, exhibitions, dance and performances as well as concerts and readings.

Angelika Wittek

"I mainly work with paper and textile materials. I like it to play with light and shadow. Therefore my objects and installations are often white. Sometimes I work with the atmosphere or mood of spaces and develop space-embracing formations. My creations are based on philosophical questions of life, death, work, religion, journeys, emigration."
On the exhibition theme, coming and going:
"Köln and Cork, both towns are by the river with a lot of shipping traffic. The coming and going of men and material. The ships encounter citizens faced with news, strange materials, unknown culture behaviors. Rivers open the towns and their individuals. Rivers open the cities for influences inspirations and changes. These doorways made exchange possible, connected peoples, towns, countries, continents. In the past most emigrants left their home by ship."
www.angelikawittek.de


Beate Gordes

"I am searching the poetic moments in the everyday. I catch moments and situations of ordinary life which not seem worthy for a second glance. I give the images a new aesthetic value. I focus my attention on only one situation, one single sequence; trivial events, minor movements, volatile changes or just the hint of a story. I work on the visualization of certain moods and atmospheres where the boundaries of the real space vanish and open up itself for new rooms, for memories, dreams and emotions. I use film, video and sound as independent media and link it with my personal associations and chains of thought.
"With the technology of video editing I can filter out brief moments and edit further. I use the tools of the modern digital video development in the same way as I use pens, paints and brushes. At the beginning of my work with moving images I also discovered the endless possibilities of digital sound production. My sound-compositions are an important stylistic device in my videoworks and complements the often diffuse-melancholic mood which I want to express."
www.beategoerdes.kulturserver-nrw.de

Hiltrud Gauf

The observation of everyday life is the point of departure for "Flussstücke" "(Amongst pieces of rivers). Standing on a bridge, Hiltrud Gauf sketches the course of a river by drawing solely that part of the surface of the water that she was able to see. Trees or poles blocking the view of the water remain as voids.
In "Schwimmen" (Swimming) she fixes the temporal aspect of movement by superimposing individual movements whose linear chronology she simultaneously puts onto paper, thereby producing something like an animation picture in one image.
www.hiltrudgauf.de