A New Frontier Beckons for Entrepreneurs At CIT's Rubicon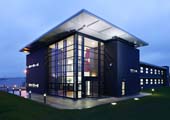 Published on: Sunday, 23 June 2013
Further information on the New Frontiers Programme can be obtained by logging on to www.rubiconcentre.ie or by contacting Peter Finnegan on 021 4928916


The promoters of twelve new early stage ventures will spend the next six months working full-time on their respective business propositions on the intensive rapid incubation programme, New Frontiers, the Enterprise Ireland supported Entrepreneur Development Programme at CIT's Rubicon Centre.

CIT has led the field in developing and implementing Entrepreneurship support since 1998. Companies such as Abtran, Cully and Sully, Crest Solutions, Aspiracon, and Somex have all developed from the support of CIT and its entrepreneurial support system which includes the Rubicon Centre.

Entrepreneurs participating on the 2013 New Frontiers Programme will be developing innovative solutions across a range of sectors including enterprise software, eLearning, specialist online resources, digital media and food.

The early stage entrepreneurial participants will be provided with a range of excellent supports to assist them in transforming their dreams in to sustainable commercial enterprises that will have the potential to trade goods and services internationally. The programme consists of training workshops, specialist clinics, project review meetings and mentoring with the sole aim being to reduce the lead-in time associated with developing these business opportunities whilst providing a level of support to the participants that is unparalleled in the region.

Such an initiative requires the support of many of the enterprise stakeholders in the region including Enterprise Ireland, the Cork City and County Enterprise Boards, Cork Chamber of Commerce, it@cork, and CIT.

These supports include access to CIT's innovation ecosystem, an experienced panel of trainers, advisers, Enterprise Ireland's Mentor Programme, the Enterprise Ireland Market Information Centre and other supports including €15,000 of financial support, peer to peer networking and support from the members of the Rubicon team.

By the end of the year each New Frontiers participant will have advanced their business proposition to a point where they can engage directly with both national and international customers and have reached a stage where they can start attracting interest from the investment community.

Peter Finnegan, the New Frontiers Programme Manager, said: "The number of high quality applications that were received made the task of selecting twelve start-ups an extremely difficult one. However, such a problem was extremely encouraging as it directly reflects the high numbers that are considering the entrepreneurial lifestyle at a time when entrepreneurship, creativity and innovation are to the forefront of government policy."

Over the next six months these start-ups will emerge with investor ready projects and join an alumni of projects already trading and employing over 2,200 in the Cork Region.