CIT Rubicon Centre hosts Camps for young Entrepreneurs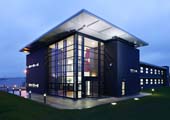 Published on: Tuesday, 23 July 2013
CIT will host its successful Enterprise Camp again this year. The camp, aimed at 14 to 16 year olds, allows students to explore entrepreneurship as a future career during a week-long series of events.

The camp takes place in the Rubicon Centre on CIT's Bishopstown campus running from Monday, August 19th to August 23rd. The twenty five participants are from Cork city and county schools.

The students will be given the opportunity to be creative, work in teams, explore opportunities and have a positive experience in an entrepreneurial environment. The Rubicon Centre is a dedicated facility for start-up and emerging companies and is home to over forty knowledge-based businesses.

The camp begins with an opportunity for the participants to meet successful entrepreneurs like Alex Musgrave, and to gain insight into his journey as a successful student entrepreneur.

During the camp, the students will generate business ideas in teams, learn how to research and understand the market, and also learn how social media impacts on business today.

The week will finish up with participants presenting their ideas and reflecting on the week and enterprise possibilities for them in the future. They will then be presented with a Certificate from CIT President, Dr Brendan Murphy.