Media Communications Department makes Euro Exchange Links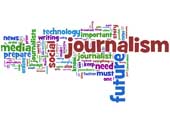 Published on: Tuesday, 06 August 2013
Staff from the CIT Department of Media Communications visited the Faculty of Communication and Journalism at the Hogeschool Utrecht in the Netherlands with the aim of creating a student exchange programme.

The idea is that students from the MA in Journalism with New Media course would spend a fortnight visiting the Faculty of Communication and Journalism in Utrecht and take part in a media project with students of Hogeschool Utrecht.

Staff from the Faculty of Communication and Journalism, which runs a number of innovative programmes in European journalism and documentary making, will visit CIT in November to work out the details of the exchange programme.

The exchange programme will be an added attraction for CIT's one-year MA in Journalism with New Media, which is entering its third year in September. "It will be a great opportunity for our students to see Journalism education first hand in another European country and to make contacts with their contemporaries in Europe," said Course Director Frank O'Donovan.

The MA in Journalism with New Media offers the opportunity to gain a strategic and systematic understanding of the theory and practice of Journalism. It aims to equip graduates with the knowledge and skills needed to effectively function as a professional journalist in the fast-growing professional communications sector.

The course pays particular attention to the growing importance of digital and interactive media on the practice of journalism and its impact on the mass media industry. By developing student's research, planning and multimedia skills it aims to produce graduates who can display leadership and the capacity for innovation within the dynamic and fast-evolving professional communications industry.

Course content focuses strongly on journalistic tools and techniques, particularly within the growing new media environment and on the increasing globalisation and convergence of the media industries.

The MA in Journalism with New Media is a well-rounded, professional, programme that prepares graduates for entry-level positions in the media. The programme stresses a balance of academic and practical modules and offers a solid grounding in the tools and practices of print, broadcast and online journalism.