Maud Cotter exhibits in the Wandesford > 14th Sept - 5th Oct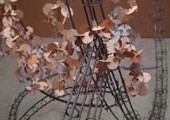 Published on: Thursday, 05 September 2013
Maud Cotter's Exhibition a solution is in the room
Wandesford Quay 14th September - 5th October

Exhibition preview Friday 13th September, 7.30pm.
a solution is in the room presents three new works by Maud Cotter, made while based in the National Sculpture Factory, the largest of which is sieve, or points of decision in redistribution. Transformed and re-expressed in space, sieve will sit in an out of scale context within the gallery volume, claiming an intangible territory of aesthetic measure as its field of endeavour.

Cotter's practice explores the indivisible relationship with the material world; unlocking the possibilities within this fundamental relationship is part of the challenge of the work. Within this, understanding physicality and the nature of this energy is a central concern.

In conjunction with the exhibition, Cotter has produced an artist's newspaper, the second of a series, also titled a solution is in the room. The paper collects photographic images, part of the generative bedrock of the exhibition, alongside a commissioned text by curator and writer Matt Packer.

Maud Cotter's work has featured in group exhibitions and solo projects in Europe and the U.S. since the early eighties, including P.S.1. New York, A Measured Quietude in the Drawing Centre, New York; and one person shows at the Oriel Mostyn Gallery, Wales and Model Arts, and Nilland Gallery, Sligo. In 2000, she was short listed for the Glen Dimplex Award at the Irish Museum of Modern Art. Cotter's work is in the collection of among others; the Irish Museum of Modern Art, Allied Irish Bank, New Hall College Cambridge, and in numerous collections in Ireland, and Europe. She is co-founder of the National Sculpture Factory and a member of Aosdana (2000).

a solution is in the room coincides with The Air They Capture is Different, Cotter's two-person show with Karl Burke in the MAC, Belfast which runs until 13th October.
| | |
| --- | --- |
| sieve or points of decision in redistribution, 2013 | settlement card lafarge model, durable Steel, found objects, styrofoam, 153cm x 45cm x 45cm, 2013 |