Event: NMCI Open Day
Tuesday, 22 October 2013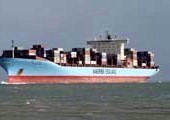 Date: Tuesday, 22nd October 2013
Time: 10.00am – 3.00pm
Useful links:
See video: www.nmci.ie/video
Please visit www.nmci.ie for more information.
The NMCI is the designated National Centre for education and training for careers in the maritime sector.
The National Maritime College of Ireland (NMCI) is located on a 10 acre campus in Ringaskiddy, Co. Cork and provides training and education for the Merchant Marine and the non-military needs of the Irish Naval Service (INS).

The NMCI provides education services of the highest quality. Specialist spaces including survival facilities, seamanship and shipwrights' workshops, fire-fighting/damage control, jetty and lifeboat facilities, and engine room are provided. The College also provides specialised simulation equipment in the areas of navigation, bridge training, communications, engineering machinery operations, liquid cargo handling/damage control and vessel traffic systems.
These facilities fully comply with the most up-to-date international standards and requirements. A multi-purpose hall and sporting facilities are also included in the College. The College also undertakes refresher and short courses for STCW validation.
Careers at Sea
Life at sea has always appealed to people who want to combine travel with a challenging career offering exciting future prospects within the associated marine industries. This is the life for those who relish the challenge of working with the sea.

Ships carry 95% of world trade and seaborne traffic is forecast to increase significantly. This is generating a great demand for high-quality personnel to manage and operate today's technically sophisticated ships. Apart from seagoing duties, the maritime industry also involves shipbuilding and ship repair, marine equipment companies, ports, surveying, administration services, insurance and law.

This major industry is looking for capable and enthusiastic people who are ready for responsibility and hard work, and who enjoy using the latest technology. You will become a key member of a highly qualified team, whether on a giant supertanker, a container ship, a cross-channel ferry,a cruise liner, a specialised vessel servicing the offshore oil industry or on a cargo ship. Opportunities at a senior level in management, marine administration, and many other marine related areas are plentiful and experienced marine people are always sought for such positions.

In addition to theoretical studies, students gain practical experience in safety, personal survival, first aid and fire-fighting. All students train with experienced seafarers at the NMCI and aboard merchant vessels worldwide. Whether the choice is Nautical Science, Marine & Plant Engineering, or Marine Electrotechnology, the student will experience the most modern resources in the world of seafarer training. There are also opportunities to advance to higher postgraduate degrees.
CAO Courses

CR 094 BSc in Nautical Science
CR 095 BEng in Marine & Plant Engineering
CR 805 BEng in Marine Electrotechnology
Other Courses
Higher Certificate in Science in Nautical Studies
BBus in Supply Chain & Transport Management

Courses for Professional Seafarers Certificates of Competency
(Post Degree)
Certificates of Competency are required under the Merchant Shipping Acts for personnel in positions of responsibility on board ships. The NMCI offers preparatory courses for the mandatory certification examinations which are conducted by CIT on behalf of the Department of Transport, Tourism and Sport. Courses for senior or post degree personnel and other short courses are available for those who require to progress from the Officer of the Watch level to the Chief Engineer or Master level of Certificate of Competency.