CIT Welcomes its 2013 New Undergraduate Students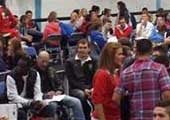 Published on: Wednesday, 11 September 2013
From Monday 9th to Friday 13th September, CIT is welcoming over 2,500 first year Undergraduate students to its Registration and Orientation Programme at the CIT – Bishopstown Campus.
The President, Dr Brendan J. Murphy, formally welcomed the students to the Institute. In his welcome address the President noted that the student is at the heart of the CIT community and central to its mission. He shared his hope that 'your overall student experience and your years at CIT will be fruitful, exciting and invigorating and that when you will leave, as graduates, you will look back at your years here with many positive and lasting memories'. Dr Murphy indicated that there are a 'variety of academic, professional and personal supports available at the Institute and encourages students to engage with and avail of these supports if and when the need may arise.
The Academic Administration & Student Affairs Manager, Dr Dan Collins, also welcomed the new undergraduate students on behalf of all associated with Central Services and the Student Affairs Division. Dr Collins stated that 'life as a student in higher education, and specifically at CIT, can be enjoyable and fulfilling, while also challenging and demanding. He invited students to avail of the supports and service available to them and which, he stressed, will assist in 'contributing to a positive student experience'. Dr Collins also noted that 'while the focus of your time at the Institute will be on your academic studies, you should be aware there are many complementary opportunities for professional and personal development through sports, societies and other extra-curricular opportunities'. He stated that the Registration & Orientation Programme will give the incoming Undergraduates the opportunity to meet their new classmates, member of the Academic Staff, Support Services as well as participate in an IT Induction and a tour of Campus.
This year also sees the launch of the "A Good Start…", a new programme of social and academic activities designed to induct incoming students to life and study at CIT. Ms Marèse Bermingham, Head of CIT's Strategic Student Engagement and Retention Initiative stated that '"A Good Start..." will provide visible, focused and coherent support to students during the first weeks of their time in CIT. Successful early adjustment is linked to subsequent success. CIT is proposing to provide a range of relevant information and events that target resources and interact with our new students in ways that make them know we care about them and that they matter. 'Belonging' has emerged as a key idea in recent research on improving student success and is closely aligned with concepts of academic and social engagement'.
Last week, new first year student were welcomed onto the CIT – CCAD and CIT – CSM Campuses and on Monday 16th September, First Year Students will be welcomed at the NMCI.