40 Brazilian Science & Engineering Students arrive in CIT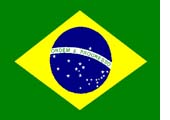 Published on: Friday, 20 September 2013

CIT continues to increase the numbers of international students who are electing to enrol in its courses with the arrival of 40 Brazilian students this week.

The students have been funded through the Science Without Borders or Ciência sem Fronteiras scheme, a Brazilian Government scholarship programme introduced to send over 100,000 Brazilian students abroad to study science, technology & engineering over the next 4 years. Ireland joins a small number of countries that are participating in the programme, including the United States, Canada, Germany, UK, France, Italy, Australia, Portugal, and Belgium.

The programme seeks to strengthen the internationalisation of science, technology, innovation and competitiveness in Brazil through international mobility of undergraduate and graduate students and researchers. The initiative seeks to place students in internationally competitive higher education settings related to technology and innovation with opportunities for internships in their fields of study.

Brazilian students Bruno Vinnicius de Oliveira and Victor Cruz De Souza demonstrating their soccer skills in front of fellow brazilian students and CIT President Dr. Brendan Murphy, and Michael Loftus Head of Faculty of Engineering & Science.
Photographer Pascal Ungerer

CIT's enviable record of providing students with excellent employment opportunities and a firm basis for future career development, while offering one of the widest selections of science and engineering courses in Ireland, has proved to be an exceptionally popular option for the Brazilian students.

CIT welcomes the students this September from institutes of higher education throughout Brazil into a wide variety of science and engineering degree courses on offer, including Analytical Chemistry with Quality Assurance, Architectural Technology, Electrical Engineering, Electrical Power Systems, Electronic Systems Engineering, Chemical & Biopharmaceutical Engineering, Environmental Science & Sustainable Technology, Herbal Science, Mechanical Engineering, Nutrition & Health Science, Pharmaceutical Biotechnology, Software Development, Structural Engineering and Sustainable Energy.
Michael Loftus, Head of Faculty of Engineering & Science, CIT, states that "we are delighted to welcome this group of students from Brazil.""Our industry-focussed approach to education and outstanding record in creating business start-ups and driving student innovation were key factors in attracting the students to study in CIT", he said.
Simielle Damaceno De Morais – Brazilian 4th year Biomedical Engineering: "CIT provides you with an amazing opportunity to learn through lots of practical lab work and gain invaluable hands on experience during internships in companies."

Brazilian Students at Camden Fort Meagher, Crosshaven
Photographer Sidarta Corral