Event: IDFPA Powerlifting Intervarsities
Saturday, 12 October 2013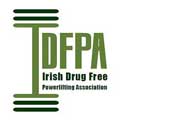 Entry is free for spectators and it promises to be a great spectacle with two platforms in operation.
The Irish Drug Free Powerlifting Association (IDFPA) Powerlifting Intervarsities takes place on Saturday 12th October, in the CIT Sportshall. Weigh-ins will take place from 9am, with the competition starting at 10.30am.
This will be the first ever Powerlifting Intervarsities and CIT creates history by being the first college to host the event. As well as the individual competitions, the "John West Shield" will be up for grabs to the best overall team in honour of the Hall of Fame and multiple World Champion John West.
Powerlifting competitions consist of three lifts in the following order: Squat - Bench Press – Deadlift. Each lifter will have three attempts on each lift to lift the heaviest weight that they can. The combined totals of the best three lifts will then be used to determine the winners in each weight and age division.

Over 80 students from CIT, UCC, WIT, Carlow IT, UCD, DCU, NUIG, LIT Tipperary and Trinity College will battle for the honours.

We wish all competitors an enjoyable outing, particularly our own members of the CIT Powerlifting Club who diligently train every Monday and Wednesday in the Tyco Gym.