CIT Multimedia graduate Shaun O'Connor Wins Big At DC Shorts Festival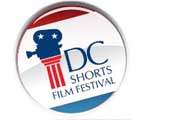 Published on: Tuesday, 15 October 2013
A short film made in rural Cork for just €300 has won a major award at the biggest short film event on the East Coast of the United States.
'Uisce Beatha' (Gaelic for 'Whiskey' or 'Water of Life') won the Filmmakers' Choice Award at the DC Shorts festival, which concluded last
weekend.
Festival director Jon Gann presented the award to the film's director Shaun O'Connor at the awards ceremony in the Gibson Guitar Showroom, 709 G St NW.

Image Credit: DC Shorts
'Uisce Beatha' was the only Irish film to feature at DC Shorts, from a selection of over 150 international shorts. It screened on the Saturday of the festival at the U.S. Navy Memorial's Burke Theater, 701 Pennsylvania Ave. NW, and was very warmly received. The Filmmakers' Choice Award is the short voted for most by the festival's attending filmmakers, which included directors from Brazil, Argentina, Russia and across the US.
Set in 1912, 'Uisce Beatha' is the true story of Tom, a young man who leaves his home in rural Ireland to cross the ocean on the ill-fated 'Titanic'. But a night of celebration beforehand results in a twist that will affect Tom's fate drastically.
Writer and lead actor Tadhg Hickey came across the story while researching the dozens of Irish people who had purchased tickets for the Titanic but not actually boarded the ship. Fascinated by Tom's story in particular, the filmmaking team immediately set about adapting it for a short film.
Production of the film took place in various picturesque locations around County Cork. Though the film was made without funding, friends and family helped out on set where possible; local actors also lent their talents.
Having a tiny budget on a period film meant that the filmmakers had to be very creative. Period costumes were borrowed from a local theatre production, and one scene was shot on an antique railway to achieve the look of an old train journey. But the work paid off, as 'Uisce Beatha' has proven to be an audience favourite at festivals, winning awards at the Cork Film Festival and Chicago Irish Film Festival. It has also screened at film festivals in Boston and San Francisco. However, the win at DC Shorts is a major milestone in terms of international exposure for the Irish filmmaking team.
Shaun said: 'My team and I are absolutely thrilled at having won an award at DC Shorts. The film was a tiny production, made with people helping out for little or no payment. It was an honour just to be screened at DC Shorts with international productions of such a high caliber, but to win the Filmmakers' Choice Award is incredible. I'm so thankful to Jon Gann and all of the volunteers for making me feel so welcome and putting on an amazing festival. Hopefully I'll be back next year!'
Shaun recently finished post-production on his new short film 'Rest My Bones'. Writer Tadhg and producer Aideen are both working on theatrical projects, and Tadhg also has a new television sitcom script in development.

Shaun and Tadhg's previous work can viewed at: www.shaunoconnor.com and the trailer for Uisce Beatha can be seen at: http://www.youtube.com/watch?v=2EXmz1FZOmw
For any further information, stills, interviews etc, please feel free to contact Shaun by E shaunoconnor@gmail.com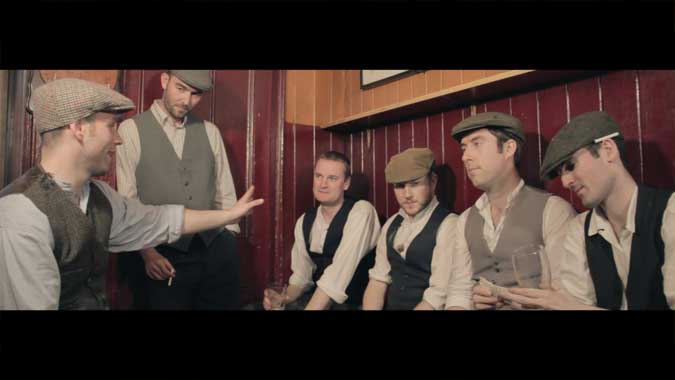 From Left Tadhg Hickey, Dave Cooney, Alan Riordan, Eoin O'Sullivan, Paul O'Driscoll, and John Ryan Howard in a scene shot in The Castle Inn, North Main Street, Cork City.