Presidential Visit to the Department of Tourism & Hospitality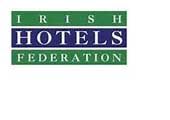 Published on: Saturday, 23 November 2013
On Wednesday, 13th November 2013, the President of the Irish Hotels Federation, Mr Michael Vaughan, made an official visit to CIT's Department of Tourism & Hospitality.
Mr Vaughan took time to meet with students from the areas of Culinary Arts, Culinary Studies, Hospitality Management, Hospitality Studies, Tourism and Bar Management, and offered advice and guidance on career building in their chosen field of study. He took time to view the extensive facilities in the Department, which allow students to reach the work-place well-prepared for the reality of a modern hospitality business and also took time to experience the service and preparation of lunch in the Training Restaurant.
Considering the current shortages that the hotel industry is experiencing in terms of experienced chefs, Mr Vaughan was impressed that 294 students are currently studying on culinary courses ranging from 1 to 3 years in the Department.
Adrian Gregan, Head of the Department of Tourism & Hospitality commented "We are delighted that the President could take time out of his busy schedule to visit us here in Cork and wish him well as he comes to the end of his 2 year term – one where he emphasised the importance of education to the future of hospitality in Ireland. We look forward to building on the current collaborative partnership which the Irish Hotels Federation and the Institutes of Technology have fostered during Michael Vaughan's presidency."
The Department of Tourism and Hospitality encompasses the areas of Culinary Arts, Tourism, Hospitality and Bar Management. It has over 700 career focused students and a team of dedicated student-centred industry experienced Lecturers across these disciplines and is located in a modern purpose-built building on CIT's Bishopstown Campus.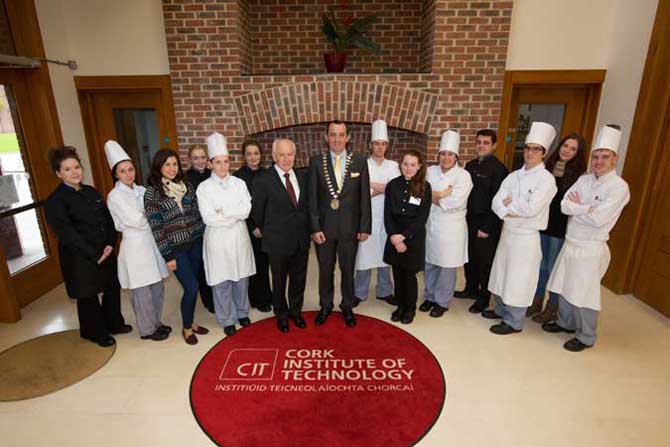 Irish Hotels Federation President; Michael Vaughan pictured with staff and students from the Department of Tourism and Hospitality.
Photographer Shane Cronin