CIT hosts Sales Institute Breakfast Seminar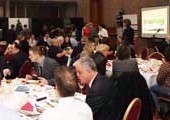 Published on: Thursday, 28 November 2013

On 28 November 2013, CIT's School of Business hosted a breakfast seminar for the Sales Institute attended by over 100 sales and business professionals. The first speaker at this event was Anthony O'Mara, Chief Operations Officer with Voxpro, one of Ireland's fastest growing and leading exporter of Business Process Outsourcing (BPO) who spoke about how Voxpro has adapted its strategy to grow sales in a challenging environment and also gave practical advice on selling and building the sales team.

The second speaker was Tracey Ryan of Bia Beauty Skincare, a Cork-based business established in 2012. The Company supplies a range of natural skin care products to almost 150 stockists around the country including Avoca, Cara Pharmacies and Evergreen Health Stores as well as running a busy online shop. Tracey spoke with passion about her products and how Bia Beauty have leveraged e-commerce opportunities to drive their online sales strategy.

Aidan McCarthy, chairman of the Sales Institute in Cork said: "The event was a great success and it was important to forge links with third level colleges pointing out that the current students are the future drivers of business and innovation".

Gerard O'Donovan, Head of School of Business at CIT said: We are delighted to welcome sales and business professionals to the CIT campus and this event served to strengthen our links with the Sales Institute and our industry partners.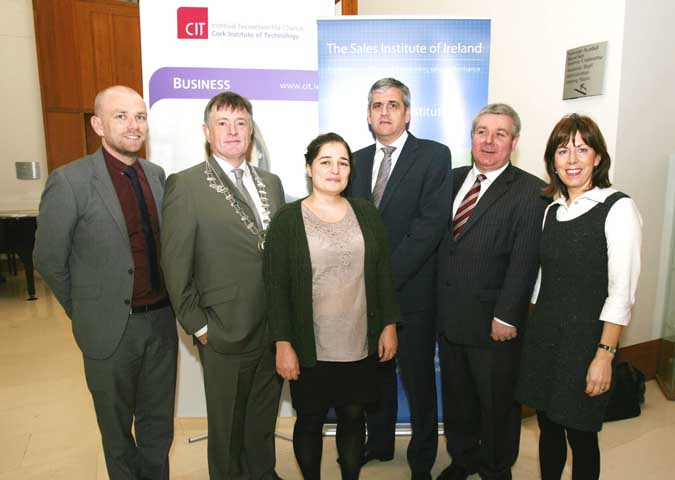 ( L to R) Dr Pio Fenton, Head of Department of Marketing & International Business, CIT; Aidan McCarthy, Chairman Sales Institute Cork; Tracey Ryan, Bia Beauty; Anthony O'Mara, Voxpro; Gerard O'Donovan, Head of School of Business; CIT, and Orla Flynn, Head of Faculty of Business and Humanities, CIT.
Image: Tony O'Connell Photography.