CIT hosts Top Lecture on Creating Innovators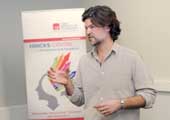 Published on: Monday, 16 December 2013
Justin Ferrell, Director of Fellowships at the Hasso Plattner Institute of Design at Stanford University, California, gave a very well received presentation at Cork Institute of Technology on "Creating Innovators through Design Thinking". Justin visited CIT as part of the U.S. Embassy Speaker Forum. The presentation took place in CIT's award winning Architecture Factory and "It was a privilege to welcome such a creative and inspirational speaker to such a creative and inspirational space" says Dr Breda Kenny, Head of CIT's Hincks Centre for Entrepreneurship Excellence.
The Hasso Plattner Institute of Design - dubbed the "d.school" – is a hub for innovators where students and faculty in engineering, medicine, business, law, the humanities, sciences and education find their way to take on the world's problems together. Human values are at the heart of the collaborative approach of the d.school which focuses on creating transformative learning experiences.
Justin Ferrell recently joined the d.school as its first Director of Fellowships - an immersive new leadership accelerator for mid-career innovators with the potential to shift their professions. A career journalist specialising in organisational behaviour and change, Justin worked for the last seven years for The Washington Post, most recently as the Director of Digital, Mobile & New Product Design. He brought mobile designers and programmers into The Post newsroom, and enabled collaborative teams of reporters, editors, designers and developers to create groundbreaking work.
Also a prolific visual storyteller, Justin has designed several award-winning projects including the investigative series "Angler: The Cheney Vice Presidency," winner of the 2008 Pulitzer Prize for National Reporting. He has spoken on creative culture in many venues, from the SXSW Interactive festival in Austin to Education City in Doha, Qatar, and is an alum of the John S. Knight journalism fellowships at Stanford.
Design thinking and prototyping is a process for producing creative solutions to even the most complex challenges. The deliberate mash-up of industry, academia and the big world beyond the campus is a key to the evolution of the d.school, which believes that innovators are necessary in every organisation and that innovation can be taught.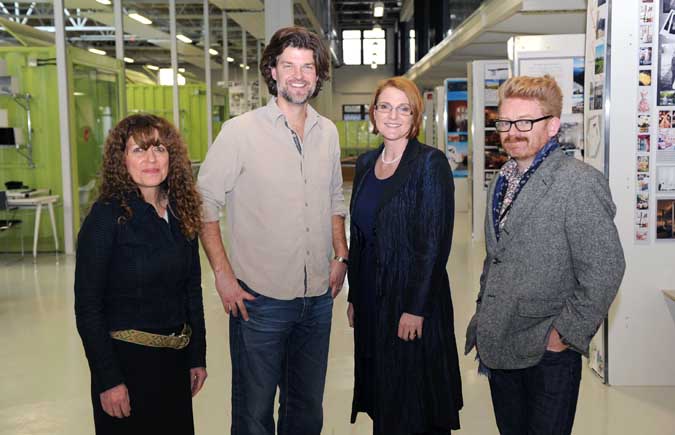 Susan Cleary, Director of Public Affairs, US Embasssy, Dublin; Justin Ferrell, Dr Breda Kenny, Head, Hincks Centre for Entrepreneurship Excellence; and Mark O Riain, Lecturer in Interior Architecture, CIT.
Photographer: Pascal Ungerer