Dirty Money: CIT research finds most Euro banknotes harbour bacteria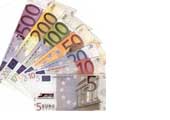 Published on: Sunday, 15 December 2013
Research carried out at CIT suggests high-risk environments, such as hospitals and nursing homes, should move entirely to cashless transactions.

The research, carried out under the supervision of Dr Jim O'Mahony at the Department of Biological Sciences , shows that up to 97% of Euro banknotes may harbour potentially dangerous bacteria on their surface - raising concerns over the spread of disease in places such as hospitals.

The specific microbes under investigation (Staphylococci) were isolated from a selection of €10 banknotes collected from retail outlets throughout Munster. An additional concern was that almost two-thirds of the isolates were resistant to at least one antibiotic used commonly in a hospital setting.

Also, as part of the study, the researchers found that the bacteria under investigation were able to persist on the surface of banknotes and coins for up to 19 days. Although the findings are intriguing, it should be said that banknotes do not pose a significant public health risk once people adhere to proper hygiene practices.