CIT Hockey Stars called up for New Year Tour of Spain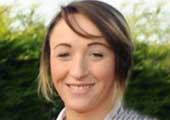 Published on: Thursday, 02 January 2014

Newslink >> Yvonne O'Byrne wins Southside & District Sports Award for December
Yvonne O'Byrne and Cliodhna Sargent have been named on the Irish Senior Hockey squad for its upcoming tour of Terrassa, Spain in January
CIT BBus (Honours) in Sport & Exercise student, Yvonne O'Byrne, has been named on the Irish Senior Hockey squad for its upcoming tour of Terrassa, Spain in January. Cliodhna Sargent, who adds to her impressive collection of Irish caps, will also represent CIT on the squad.

National Coach Darren Smith commented on Yvonne's selection: "Yvonne is a snappy and competitive defender who brings a hard nosed mind-set to the group. She is a quality tackler and we have been watching her for a while now".

Yvonne went to primary school in St Catherine's N.S. and secondary school in Mount Mercy College. She completed a Bachelors of Business in Recreation and Leisure last May and is now completing an Honours Business degree in Sport and Exercise in CIT.

"I took up hockey when I went to Mount Mercy as it is the main school sport" said Yvonne. "I made the senior A team when I was 14 in 2nd year which was 2006 and went on to win the Munster senior schools cup and All Ireland that year with Mount Mercy. Cliodhna was a 6th year on that team and that was the first place I met her.

I've played Munster U16, U18 and U21 teams from 2006-2013 and captained these teams in 2008, 2010 and 2013. I played Munster Senior in 2011 when we won the Senior Interprovincial tournament. I've played with Ireland U18 in 2010 and U21 teams in 2012 and I played with an Ireland A senior development team in 2012.

My club is Cork Harlequins - Cliodhna convinced me to join in 2008 and we made it to the IHL finals in 2010 and won the Munster Division 1 League in 2008, 2009, 2010 and 2013. I captained the Division 1 ladies team in 2011/2012 and 2012/2013 seasons.

I have received Munster Hockey Branch "Player of the Year" award for U18 in 2010 and for U21 in 2012."

Yvonne has been a CIT Sports bursary recipient since 2010 and has captained CIT Ladies hockey team for the last 2 years at intervarsities - the team won the Chilean Plate competition at varsities in 2012.

Cliodhna Sargent plays in defence for Cork Harlequins and has played for the Irish Senior team since 2007 and has 131 caps. Cliodhna studied Recreation and Leisure Management at CIT as well as 4th year Business Studies, she has a Master of Arts in Recreation and Leisure and has just begun a PhD in the CIT's Department of Biological Sciences.