CIT Journalism and Public Relations Masters students' work published in the Irish Examiner online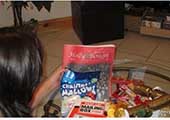 Published on: Tuesday, 21 January 2014
Several students from the CIT Crawford College of Art & Design's Department of Media Communications (MA in Journalism with New Media and MA in Public Relations with New Media) have had their work published in the online edition of the Irish Examiner.

Irish Examiner NEWSLINK

In the Special Reports Section of the newspaper, 12 selected students have their projects showcased in the first of an ongoing series of collaborations between the Department of Media Communications and the newspaper.

The theme is Recessionary Ireland and each student produced a photo essay dealing with the subject. Some relate to the darker side of the economic downturn such as homelessness, unemployment, and emigration. But there are also uplifting stories of people facing hardship but overcoming the challenge.

There are glimpses of behind the scenes of Cork Penny Dinners, the Cork Society for the Prevention of Cruelty to Animals, and the GAA, and how these organisations are dealing with fallout from the recession.

And there are moving accounts of lives changed forever – parents and siblings saying farewell to those emigrating, middle-aged men trying to come to terms with unemployment and the dramatic increase in suicide figures especially in the Cork region.

The projects are the result of the work done on the Multimedia Production module where students are using new technical skills - Photography, Filming, Podcasting– as well as the traditional skills of research, interviewing, and storytelling to create interesting and engaging web content.

The Department of Media Communications is looking forward to highlighting ongoing work in the Irish Examiner in the coming months.