Event: Sam Perkin - Concert of New Music
Friday, 07 February 2014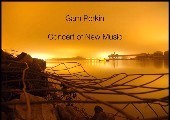 Cork Piano Forum in association with CIT Cork School of Music hosts a concert of music by Cork-born composer Sam Perkin on Friday, 7 February. Sam, a graduate of CIT Cork School of Music, was awarded highest honours by the school in both his undergraduate and masters degrees. He is currently pursuing postgraduate studies at the Conservatoire in Lyon, France, one of the leading music colleges in the world.

Praised in the Irish Examiner for his "vision, imagination, awareness of colour [and] extremely skilful use of the orchestra" Sam has received numerous awards and commissions from such bodies as Cork City Council, the Cork Orchestral Society, the CSM Symphony Orchestra, the Irish Association of Youth Orchestras and the Arts Council of Ireland. A performance of his String Quartet by the RTÉ Vanbrugh Quartet was broadcast on RTÉ lyric fm and his work recently was recently performed at Invenzione - Festival Berio in Lyon, France.

The varied programme features duos with piano for violin, flute and french horn as well as works for chamber choir and string orchestra. Performers include Ruxandra Colan, violin, Sabine Ducrot, flute, Conor Palliser, french horn, pianists Gabriela Mayer, Gary Beecher and Michael Joyce, members of the Voci Nuove Chamber Choir with conductor Colm O'Regan and the ConCorda string orchestra with conductor Tom Crowley.

The concert takes place in the Curtis Auditorium, CIT Cork School of Music on Friday, 7 February at 8pm. Tickets cost €18 or €15 for CIT staff/alumni and €7 concessions. They can be purchased at the door or in advance from events.cit.ie