CIT Cork School of Music to run Introductory Course for Using Music with Groups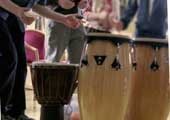 Published on: Friday, 31 January 2014
Fee: €130 for the four sessions
Closing date for applications: Friday, 21s February 2014.
Download application form
Contact:
Caoimhe Conlon
Community Music Studies,
CIT Cork School of Music
caoimhe.conlon@cit.ie


CIT Cork School of Music is running an introductory course for using music with groups. It is suited to anyone with an interest in learning some new ways to approach music, looking for some new musical ideas for using with groups or people working in community or healthcare settings who would like to incorporate music into their work. The course will focus on developing musical facilitation skills useful for the contexts and look at work that is currently taking place in similar settings. No previous musical experience is required.
The course will involve a morning of ideas and methods of using music in a group setting, followed by a session in keyboard skills (no previous experience required). It will give participants the opportunity to learn a variety of musical activities which not only work on musical skills, but also on personal skills such as concentration and teamwork. During the course participants will get the opportunity to lead activities within the group to gain confidence before trying the ideas out in their own work.
The course will run over four days between February and May, with a choice of Friday (9am - 2:30pm) or Saturday (10am - 3:30pm) to fit in with work schedules. It has been set over a number of months to give participants the time to try the ideas with their own groups in between the sessions, and discuss their experience of it afterwards.