Event: Graduates - have you the right attitude? What attitudes do you have towards a student or graduate with a disability entering the workplace?
Thursday, 27 February 2014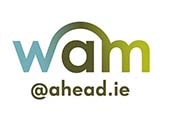 The WAM programme at AHEAD is running a free interactive training event hosted by Dell Software Group, Cork.

Thursday, 27th February @ DELL Software Group, Mahon, Cork
9.30am –2.00pm with lunch provided.

To register; email wam@ahead.ie or phone 01 716 8844. Limited places available.
Commonly held beliefs will be discussed towards the recruitment of dyslexic, deaf and mental health candidates, reasonable accommodations and technology.

Input from University of Limerick and University College Cork.
Willing Able Mentoring (WAM) is a work placement programme which aims to promote access to the labour market for graduates with disabilities and build the capacity of employers to integrate disability into the mainstream workplace. Participating employers (WAM Leaders) collaborate with WAM to offer mentored, paid work placementsfor graduates with disabilities. This partnership brings graduates with disabilities and WAM's network of employers together so that both can benefit from each other - ensuringgenuine learning opportunities for all.
WAM is unique in that it seeks to engage and support employers in order to simultaneously develop the potential of employers and graduates with disabilities