94 Top Class Sports Stars Awarded CIT Scholarships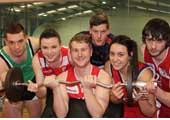 Published on: Tuesday, 11 February 2014
The CIT Sports Scholarship Presentation Evening took place on 10th February at the Oriel House Hotel, Ballincollig. The event saw ninety-four student athletes across fifteen different sports presented with a prestigious sports scholarship. Guest speaker, CIT graduate and former All-Ireland Senior Football winning captain Graham Canty performed the presentations.
The Institute allocates sports scholarships annually to students who display a high level of achievement, and are excellent ambassadors for CIT in their chosen sport. The standard and competition for scholarships is exceptionally high with many recipients boasting All-Ireland titles, Provincial honours, MVP's, World titles, and International caps. The scholarship scheme is designed to help students reach their full potential both in their sport and also in their academic careers.
In total 94 scholarships were awarded including 35 CIT Freshers/Development, 37 CIT Senior, 14 Munster Council GAA, 7 CIT/Munster Rugby, as well as a Cork Women's F.C. scholarship.
Among the recipients is Horse Racer Jane Mangan, who since this presentation function last year has had some journey... Jane rode a double at the Punchestown Festival, including the Grade One Champion Bumper, and at the Fairyhouse Easter Festival won the Racing Post Champion Point-to-point bumper.

Great additions to the CIT Ladies Basketball Club this year are Irish U'18 internationals Amy Waters and Lauren Falvey. Ironically Amy and Lauren found themselves on opposing teams recently in the U'20 National Cup Final, Amy co-captained Brunell to victory while Lauren was Glanmire captain. The Men's Basketball Club is backboned by senior scholarship recipients and superleague players Mark O'Leary, Ciaran O'Sullivan, and Brendan Kiely, who will be well supported by first years and former Ireland underage internationals Darragh O'Hanlon and Declan Cahill. Ciaran played a pivotal role and chipped in with 14 points in C & S UCC Demons recent National Cup success. America's loss is CIT's gain as both Declan Cahill (basketball) and Craig Murphy (Athletics) have returned from scholarships in America to study in CIT.
Among the Athletics recipients were current Cross Country Junior County Champion Cullen Lynch, and Rachael O'Shea who won Gold & Silver in the U'19 All-Ireland indoor & outdoor 800metres, as well as two silvers in the All-Ireland 1500m indoor &outdoors.

Rowing recipients include Skibbereen and Irish rowers Gary O'Donovan, Shane O'Driscoll, Patrick Hegarty, and Bernadette Walsh. Both Patrick and Bernadette represented Ireland at the World Junior Championships in 2013.
The hockey recipient was Yvonne O'Byrne who collected three senior international caps as part of the Irish Senior Hockey teams successful tour of Terrassa, Spain in January. Former professional cyclist with the "An Post Sean Kelly Team", Paidí O'Brien was the cycling recipient. In 2013 Paidí was first in both the National Circuit Race championship and the Irish Amateur Road ranking.

Among the scholarships allocated for soccer were ex Cork City Senior player Paul Deasy who led CIT to a sixteenth place finish in the Futsal European Championships 2013, the best an Irish team has ever achieved. Among the Ladies soccer recipients was Irish underage international player Amanda Budden who recently won a treble with Wilton United.

On the rugby front, Munster U19 players Luke O'Leary and Roisin Ormond were among the recipients.

GAA recipients included Cork Junior All-Ireland Football medal winner Donal Óg Hodnett, Cork Senior hurling panellist Mark Ellis, Tipperary U'21 and Senior player John O'Dwyer as well as All-Ireland Senior Ladies Football medalists Emma Farmer and Jessica O'Shea.
Sports Officer Miriam Deasy commented, "We in CIT are very proud of the huge array of sporting talent being recognised in these scholarships. Each sports star is an excellent example of what can be achieved by hard work and are tremendous ambassadors for CIT. We hope that this recognition will lead to even further sporting success and academic development."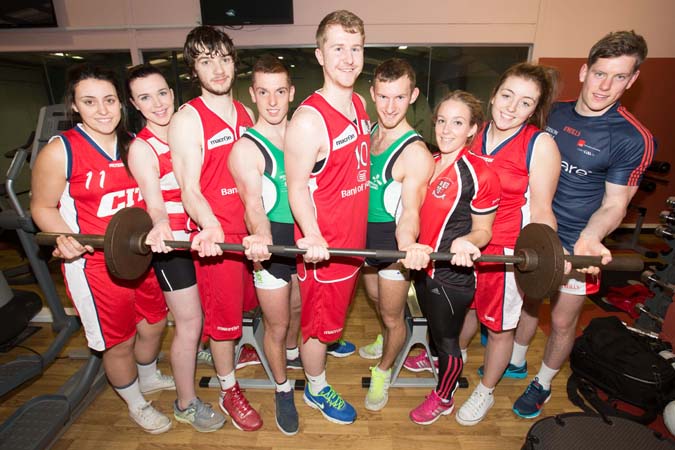 Scholarship recipients Lauren Falvey (Basketball), Rachel O'Shea (Athletics), Declan Cahill (Basketball), Shane O Driscoll (Rowing), Mark O'Leary (Basketball), Gary O Donovan (Rowing), Gillian Hosford (Rowing), Amy Waters (Basketball), Donal Og Hodnett (Football).