Jordan Bagot is selected as a finalist in the 2014 Yamaha Music Foundation of Europe Scholarship Awards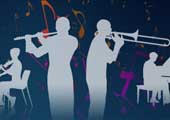 Published on: Tuesday, 11 February 2014
Jordan Bagot, a full time student in the Bachelor of Music programme in the CIT Cork School of Music, has been selected as a finalist in the 2014 Yamaha Music Foundation of Europe Scholarship Awards. Jordan Bagot is a student of Mary Beattie and Gabriela Mayer.
Three students representing the cream of Piano talent from the Republic of Ireland's conservatoires will perform in the final round, to be held at the Katherine Brennan Hall at the Royal Irish Academy, Dublin on Tuesday, 11th February 2014.
All finalists will play Yamaha's acclaimed CFX concert grand piano, which is an increasingly regular feature on concert platforms the world over, and have their performances, each of 30 minutes duration, judged by a panel of world-class artists and tutors. The winning finalist will receive €2000 to assist the furthering of their studies and musical ambitions. The award also offers a high profile opportunity for publicity as the winner embarks on their classical music career.

Each year the YMFE instrument emphasis rotates between Piano, Brass & Woodwind, Orchestral Strings, Percussion and Voice and this year sees Piano as the chosen discipline. The scholarships have established an international reputation for showcasing the finest emerging talent and boast particularly strong alumni, many of whom are now enjoying successful careers. These include saxophonist Amy Dickson, euphonium player David Childs and pianists Sasha Grynuk and Eduard Kunz.
Following a record number of entries, the huge task of judging both the UK and Irish preliminary rounds was undertaken by the Royal Irish Academy of Music and in particular Réamonn Keary and David Halford, to whom Yamaha is extremely grateful.

The Republic of Ireland final judging panel will include Réamonn Keary (Chair) – Head of the Keyboard Faculty at the Royal Irish Academy of Music, Gabriela Mayer – Head of Keyboard Studies at CIT Cork School of Music and David Mooney – Head of Keyboard Studies at DIT Conservatory of Music & Drama.
Launched in 1989, the Yamaha Music Foundation of Europe is celebrating twenty-four years of providing performance opportunities, support and financial assistance to talented music students throughout Europe. A total of 43 Scholarships in 29 countries will be awarded to full-time students during 2013/2014 and to date the Scholarship scheme has provided over 850 scholarships amounting to in excess of €1 million.
The 2014 Irish Finalists are:
Jordan Bagot – CIT Cork School of Music
Nadene Fiorentini – Royal Irish Academy of Music
Eliza Puchianu – Royal Irish Academy of Music