Event: Des Clark gives talk on Trekking in Moroccan High Atlas... and beyond > Monday, 10th March @ 8pm
Monday, 10 March 2014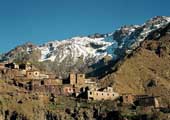 Mountain Guide, Des Clark, will give a free talk at Cork Institute of Technology on "Trekking in the High Atlas and Beyond." The talk, hosted by Bishopstown Orienteering and Hillwalking Club, takes place in CIT Rory Gallagher Theatre, on Monday, 10th March at 8.00pm.

Des Clark has led groups and trekked in many of the world's greatest mountain ranges including the South American Andes, European Alps, Pyrenees, Aconcagua, Iceland and Tajikistan. Having lived and worked for several years in a traditional Moroccan village just South of the Atlas Mountains, this is a region which Des knows like the back of his hand.

So come along for an evening with Des Clark as he walks us through the high points of his mountain experiences so far. He has written a Cicerone guide book entitled 'Mountaineering in the Moroccan High Atlas'. His new book on winter mountaineering in Spain's Sierra Nevada mountains is due out later this year.

Admission is Free and all are welcome.