CIT Fashion Show in aid of Cystic Fibrosis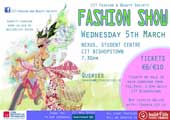 Published on: Friday, 28 February 2014

CIT's Fashion and Beauty Society are organising a fashion show in aid of Cystic Fibrosis. The fashion show will take place on Wednesday, 5th March at 7.30pm in Nexus, Student Centre, CIT Bishopstown.

The fashion show will include many different styles of clothes from the following shops: Jack & Jones, Rouge, Oasis, New Look, Debenhams, Morely's Suits, Tom Murphy Suits, Vila, dot.cotton, Primetime, Coast, Amity as well as items from CIT's Sports Wear. All the models are current students in CIT.

The show promises to be a very entertaining evening and you can purchase tickets from students in the main corridor of the Bishopstown campus or online from the CIT Events page – www.citsocieties.ie

All proceeds will be donated to Build4Life, a charity that supports children who suffer from Cystic Fibrosis.