CIT hosts Formula 1 Technology Challenge CIT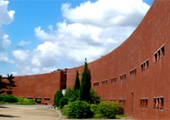 Published on: Tuesday, 04 March 2014

The Regional Finals of the Formula 1 Technology Challenge was hosted by CIT on Tuesday, 4th March 2014.
F1 in Schools is a competition, open to all second-level schools, to design and manufacture compressed air-powered racing cars.
Student teams compete against each other in Regional and National Finals of an annual Championship to determine the best-engineered and fastest car in Ireland. Competitors have an exciting educational experience, expressing their creativity, skills and team-working ability in a fun and positive way.
For further details see http://www.f1inschools.ie/index.php