CIT Architecture Factory Nominated For A World Architecture Award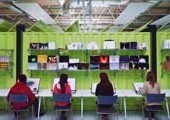 Published on: Sunday, 16 March 2014
CIT's Architecture Factory has been shortlisted for a World Architecture Award and its designers are in competition with major architects like Zaha Hadid and Mecanoo for the public vote. CIT's Architecture Factory has already beaten Google's new Dublin headquarters on its way to winning the National Design Grand Prix last November. With entries from over a 100 countries, the shortlisted designs truly represent the best of architecture, worldwide.

The public online vote closes on Friday, 21st March with winners announced soon after. The designers are hoping to mobilise the Cork and Irish vote to support the project online at http://awards.architizer.com/public/voting/?cid=25
The design based in the former factory on Melbourne Road was completed in 2013 and houses CIT's Department of Architecture. Designed by CIT's lecturer, Marc O'Riain, together with RKD Architects and ARUP, the design studios in the Architecture Factory are made used shipping containers that have been around the world three times.
Being shortlisted for the prestigious World Architecture Awards alongside the giants of Architecture is a wonderful honour for CIT. It already has a series of world class buildings including the muti-award winning Administration, Student Centre and Tourism and Catering Buildings, designed by de Blacham and Meagher and CIT Cork School of Music, designed by Murray O'Laoire Architects, which received the Best Educational Building award at the RIAI Irish Architecture Awards in 2008. Last year CIT's Administration and Student Centre featured on a set of stamps issued by An Post to celebrate "Ireland's most outstanding contemporary public buildings".
CIT lecturer, Interior Architect, Marc O'Riain is delivering an open lecture on Saturday 15th March at the Architecture Factory, CIT at 1.30pm and all are welcome.
For more details on CIT's Architecture Factory visit www.architizer.com/projects/architecture-factory or to explore architecture options at CIT visit http://architecture.cit.ie/