Fragments…of Divine Inspiration > Exhibition @ St. Fin Barre's Cathedral, Cork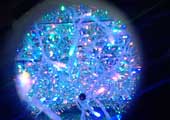 Published on: Wednesday, 16 April 2014

Runs 11th April – 8th May 2014
Open Monday to Saturday 9:30 to 17:30, Sunday 12:45 – 17:00
Please note that during the exhibition run, entry is subject to normal Cathedral admission fee
Adult €5, Senior €4, Student €3.
Directions to St. Fin Barre's Cathedral
An Exhibition at St. Fin Barre's Cathedral, Cork - by students from the Higher Diploma in Arts for Art & Design Teachers course, CIT Crawford College of Art & Design, Cork.
.............................................................................................................................................................
Fragments… of Divine Inspiration, is an exhibition by thirty HDip student art teachers whose artwork displays a unique and creative response to the magnificent 19th C. Neo-Gothic interior of St. Fin Barre's Cathedral in Cork. In particular, the emphasis is placed upon the inspirational designs of its architect William Burges, which dominate every facet of the Cathedral's fabric and decoration.
The artwork on display is mostly located within in the cathedral's ambulatory, and includes digital-based images, app design, mixed-media sculpture and installation pieces. As student art teachers, the exhibitors reflect upon how teaching and learning can be seen in a new light, placing an emphasis upon modernising the Leaving Certificate art history curriculum. Therefore, one of the main intentions within the work is to contemporise art history, making it more relevant to a new generation of media savvy school-goers.
Collectively, the student teachers responded to the stories communicated in the mosaics, stained glass and sculptural artefacts within the Cathedral, finding fragments of meaning hidden in its striking imagery and complex symbolism. This sparked their curiosity and desire to understand better the spiritual aura ingrained in the stone, wood and metal of the Cathedral's interior. The mixture of Christian - and surprisingly for the Victorian era – pagan imagery, proved to be of particular fascination to the artist/teachers.
The students contributing to this exhibition are all currently carrying out their teaching placement in second-level schools, spread mostly across Cork City and County. Their artwork highlights the importance of preserving our local heritage while also helping to safeguard its legacy for the classrooms of the future.
__________________________________________________
For further information please contact:
Mark Ewart (Exhibition Coordinator)
Department of Art & Design Education
CIT Crawford College of Art & Design
Sullivan's Quay Campus
Cork
tel: +353 21 4335257
mob: +353 86 8438203
email: mark.ewart@cit.ie