CIT Ladies Soccer Team 2014 Ladies Intervarsities Shield Winners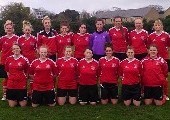 Published on: Tuesday, 01 April 2014
Last Thursday the CIT Ladies Soccer team travelled to Dublin to play in the 2014 Ladies Intervarsities. The trip turned out to be a huge success as the girls managed to win the WSCAI Intervarsities Shield.
CIT breezed past their semi-final opponents, Dublin City University, with a comprehensive 5-0 win. Elaine Field, Aishling Harrington, Michelle Brown and Amanda Budden grabbed the all-important goals. The final played on Saturday was a much tougher game against NUI Maynooth. CIT were out for revenge after their opponents controversially knocked them out of the 2013 Intervarsities. CIT started the game strong and scored through Elaine Field. Although CIT looked comfortable a 1-0 lead meant the game was still in the balance, but Cork Women's FC player Michelle Browne put the game beyond doubt with a second half strike to give CIT a 2-0 victory and the silverware on offer.
A big thank you to Chris O' Mahony who has done tremendous work with the CIT Ladies Soccer team over a number of years. Chris's dedication has been key to the high numbers and activity of Women's Soccer in CIT and he was an integral part of creating a link with Cork Women's FC. Also thanks to Charlie Foley, an ex-CIT student who has helped coached the team throughout the year and travelled to Dublin.
A big special thanks to Mary McDonnell, the CIT Ladies Soccer Chairperson, not only for her work this year but for the remarkable work she has done for the club over the past 5 years. She has been the driving force behind the success of the club and will truly be missed. Mary graduates this year and she will be a massive loss to the team. The CIT Ladies Soccer Club thanks Mary and wishes her the best for the future.
Thank you for supporting the CIT Soccer Club throughout the year.