CIT's Dr Margaret Linehan is elected Chair of the Irish Academy of Management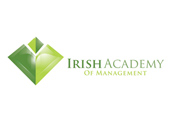 Published on: Sunday, 30 March 2014
CIT's Dr Margaret Linehan has been elected Chair of the Irish Academy of Management (IAM). The IAM is the leading professional association for management studies, research and education on the island of Ireland. The academy was formed in 1997 and since then has gone from strength to strength. The Council comprises academics from universities and institutes of technology across Ireland.
The purpose of the Irish Academy of Management is to promote the advancement of research, knowledge and education in the field of organisation and management studies. The academy also encourages presentation and publication of scholarly research.
The highlight of the Irish Academy of Management year is its annual conference, where keynote speakers as well as international and national academics present new research findings. This year, the annual conference will be take place on 4-5 September in the University of Limerick. The IAM is also pleased to announce the inaugural event of the Work, Employment and Organisation Special Interest Group. The mission of the special interest group is to foster dialogue and cooperation between academy members and students who work in these areas. This event will take place on 1 May in University College Dublin


Speaking after her election as Chair, Dr Linehan said
"It is a great honour for me to be elected Chair of the Irish Academy of Management, and I look forward to working with Council members over the next three years. I am also looking forward to encouraging emerging researchers and would like to offer them support and encouragement during my term as Chair."

.