CIT Architecture Factory Wins International Design Award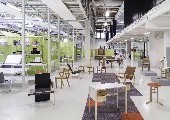 Published on: Friday, 18 April 2014
The Architecture Factory at CIT has won an international design award for its interior. The A' Design Award & Competition is the world's largest and most diffused international design awards. The Architecture Factory was chosen with 4 others for the prestigious Platinum Award for Interior Spaces along with another Irish space, Google Docks in Dublin. The projects were evaluated by an internationally influential jury panel composed of established scholars, prominent press members, creative design professionals, and experienced entrepreneurs, from over 12,000 entries worldwide.
A' Design Competition results are announced annually. Best products, projects, and services worldwide, that demonstrate superior design, technology and creativity are rewarded with the A' Design Award; the symbol of excellence in design and innovation. There are five different levels of distinction: Platinum, Gold, Silver, Bronze and Iron A' Design Awards. Designers, companies and institutions from all countries are called to take part in the accolades by nominating their best works, projects and products, for award consideration.
For the Department of Architecture this represents a further endorsement of its facilities. It is a great testament to the design team, headed by RKD and ARUP, and the Department's own Lecturer and Interior Architect, Marc O Riain. "It was fantastic to win the National Grand Prix last November" said Mr O Rian "and to win the international A' Design Platinum for Interiors is a rare honour and to be fair, a team effort. I'm delighted for CIT and for Cork."

http://www.dezeen.com/2014/04/15/a-design-award-2014-winners-announced/