CIT Presents Awards To Sporting Heroes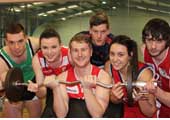 Published on: Thursday, 01 May 2014
Please click here to download list of Sport Awards Recipients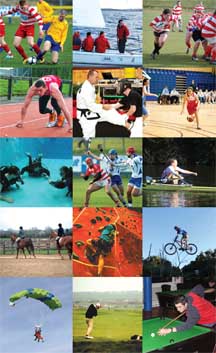 On 30 April, 2014, the CIT Sports Awards presentation function took place in the lovely setting of the Common Room, Student Centre, CIT Bishopstown Campus. Guest Speaker, former Cork hurler and CIT graduate, Conor Cusack silenced the room as he passionately shared words of experience and advice on mental health related issues.

Conor Cusack, CIT Graduate, and former Cork Senior Hurler, was Guest Speaker at the CIT Sports Awards which honoured its exceptional sporting students and clubs. Eleven individual awards were presented as well as "Fresher of the Year," "Club of the Year" and Special Achievement awards for international athletes
Since 1993, CIT Sports awards provides the ideal opportunity for CIT to recognise students who have excelled in their chosen sport throughout the academic year. The awards are based on outstanding achievements in their sport and/or the administration of clubs within CIT.
The awards also recognise graduates. This year the Graduate Achievement Award goes to Michael Fennelly, former All Ireland winning captain and current senior hurler with Kilkenny. Michael joins the prestigious list of Graduate Achievement Award winners such as Juliet Murphy, Graham Canty, Denis Walsh, David Wallace, Eoin Liston, Conor Counihan, Dave Barry, Paul Wallace, Joe Kavanagh, Brian Carey, Brian Corcoran, Sarah Kelleher, Mags Finn, Wesley Bateman, John Cleary and Philly Larkin.
The Club of the Year award went to the CIT Hurling Club who had an exceptional year. Three out of its four Championship teams reached finals, with the Intermediates capturing the All Ireland; Fresher 2 made it to an All Ireland Final and CIT Senior Hurlers reached the Fitzgibbon Cup Final.

Fresher of the Year went to Jean O'Sullivan, from Macroom, Co. Cork, Goalkeeper for CIT Ladies Football team.
Two Achievement Awards were presented to students who this year were selected at senior international level. Yvonne O'Byrne, from Cork City, who received her first Hockey international cap in January against Spain and Conor Skehan from Ballinamult, Co. Waterford, a Member of the Irish Senior Racquetball team who won the European Championships in Italy last year.
The 2013/2014 academic season has been a very successful one. CIT featured prominently in a broad range of sports from indoor to outdoor sports to field sports.
Congratulating the award winners, CIT Registrar and Vice President for Academic Affairs, Dr Barry O'Connor, thanked all CIT sports clubs for their outstanding commitment to an enhanced student experience in 2014. "The clubs provide a structured and positive platform for student engagement and a welcome sense of community, particularly for freshers entering CIT. The continued development of the CIT's much sought-after sports facilities, complemented by academic developments led by the Department of Sport, Leisure & Childhood Studies, marks CIT out as a leading sports campus in the Third Level sector."
.........................................................................................................................................................................
photo gallery
Individual Award Winners:
1. Mark O'Leary - Men's Basketball ♦ 2. Emma Farmer -Ladies Football/Soccer ♦ 3. Shane O'Driscoll - Rowing ♦ 4. Michael O'Sullivan - Hurling ♦ 5. Paul Deasy - Men's Soccer ♦ 6. Roisin Ormond - Ladies Rugby ♦ 7. Laura Burchill - Ladies Football ♦ 8. Karol Pawlak - Volleyball ♦ 9. Katie Galvin - Camogie ♦ 10. Pearse O'Flynn - Sailing ♦ 11. Rachel O'Shea - Athletics
Fresher of the Year
12. Jean O'Sullivan - Ladies Football
Club of the Year
13. Hurling Club
Special Achievement Awards
14. Yvonne O'Byrne - Hockey ♦ Conor Skehan - Racquetball
Graduate of the Year
15. Michael Fennelly - Kilkenny Senior Hurler
Presentation
16. Presentation to Dr Eamonn Cashell, Dean of the School of Graduate Studies.