School of Business Hosts Economic Forum > 15 May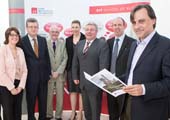 Published on: Wednesday, 14 May 2014
CIT's School of Business hosted a National Economic Forum attended by Institute of Technology Economics Lecturers from all around Ireland. CIT President Dr Brendan Murphy, opened the event and spoke about the importance of Economics in Business Programmes and stressed CIT's commitment to continually seek out and implement best practice in its teaching methods. The Forum hosted three high calibre guest speakers, Dr Steve MacFeely (CSO), Dr Constantin Gurdgiev (IBRU Venture Capital & TCD) and Dr Brendan Walsh (UCD). The theme was "Economics in the 21st Century".

Dr Steve Mac Feely, Assistant Director General, CSO explored the CSO's Role in Education in the 21st Century. Dr Mac Feely drew attention to the variety of educational resources available on the CSO's website and mentioned initiatives such as Apps4Gaps which is an All Ireland competition aimed at encouraging young people to develop ideas and create applications exploiting the open data freely available on the CSO's website.

Dr Constantin Gurdgiev discussed the theme of Economics in the 21st Century and also made some interesting points on the Irish Economic crisis and recovery. Dr Gurdgiev commented that "an economy based on human capital is the economy of the future for Ireland". He highlighted that creating human capital involves instilling in students an ability to think and inquire.

Dr Brendan Walsh, Professor Emeritus in the School of Economics, UCD, spoke about 'Writing an Economics Text Book for Third Level Students in the 21st Century'. He expressed the belief that students benefit from a textbook that familiarises them with the numerous exceptional features of the Irish economy. At present Ireland provides a fascinating case study of how a small economy that is part of a large monetary union adjusts to external shocks in the absence of independent fiscal, monetary or exchange rate policies.

All participants contributed to two workshops which were held on the day. These focused on teaching methods and assessment methods for Economic students. Best practice models were exchanged and discussed among participants. The ideas and initiatives that were discussed included online resources, simulation methods, live tweets and field trips as methods to enhance the student learning experience.

Commenting on the forum, the Economic Forum organiser, Economics Lecturer, Aisling Conway, thanked all attendees for their inputs and highlighted the importance of exchanging ideas and developing best practices in teaching.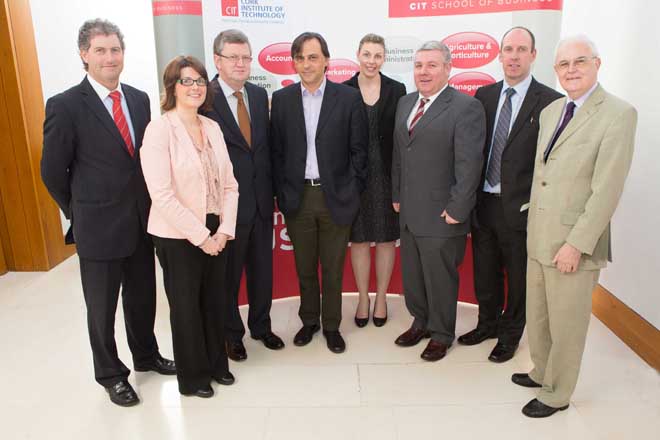 Dr Constatin Gurdgiev, IRBU Ventre Capital and Trinity College with Paul Gallagher, Vice President CIT; Sinéad Huskisson; Brian McGrath, Head, Department of Management and Marketing, CIT; Aisling Conway, Gerard O'Donovan, Head, School of Business, CIT; Dr Steve MacFeely, Assistant Director General CSO, and Damien Courtney at the National Economic Forum in CIT.