CIT Careers Service Scoops Award For Employability Works Programme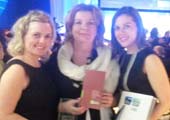 Published on: Wednesday, 30 April 2014
On Wednesday 30 April 2014 the eighth annual Gradireland Graduate Recruitment Awards evening took place in The Mansion House, Dublin. It attracted over 500 guests to the spectacular gala awards evening and was attended by the major stakeholders in the graduate recruitment industry, including government and business leaders, graduate employers, academics, careers professionals and key decision-makers. 168 companies and educational institutions represented at the awards and only 30 scooped awards.
Congratulations to Róisín O'Grady and Treasa Morgan from the CIT Careers Service who won 'the Silver Award' in the Employability Award category for their 'Employability Works Programme' which was developed and delivered in collaboration with the CIT School of Engineering and Science. This programme provides Employability Skills Education to third, final year and postgraduate students within Science and Engineering in CIT. It specifically focuses on building students' confidence around the transition from third level into the workplace.
This award was open to Association of Higher Education Careers Services (AHECS) member career services who demonstrated outstanding employability initiatives. The category was very competitive with a total of 11 nominations received from careers services all over Ireland. The CIT Careers Service was previously shortlisted for its 'CIT Springboard & ICT Employability Event' held in 2013. This year was the first time that the Service has won an award at this prestigious event.
Marese Bermingham, Head of CIT Strategic Student Engagement and Retention (CITTERSI) was also nominated by the Careers Service for the AHECS Engagement Award at the event. This award was open to an organisation, institution or employer who demonstrated an outstanding partnership with an AHECS member careers service. Marese was short-listed and commended for her work in Student Engagement and Retention. This category was also very competitive with only 3 entries being shortlisted.