Application for Fine Art Textiles Part-time Course is open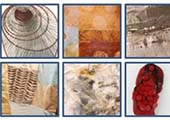 Published on: Sunday, 04 May 2014
Programme & Application Details
The Level 8 Special Purpose Award Fine Art Textiles (30 credits) programme offers a range of textiles processes: stitch, print, dye, felt making, papermaking, weavings, basketry— in a free experimental approach encouraging innovation based on conceptual development toward a personal language.
Students will be registered fully within the CIT Crawford College of Art & Design, with full access to Library and technical facilities.
Designed for those who wish to create textiles for exhibition and commission.
Do you have a Level 6 textiles qualification and wish to progress toward a higher level?
Or do you have many years of self-taught expertise in textiles, and have been active in producing art textiles–and would like to join a challenging group to learn more about conceptual development in the context of historical and critical research?
Would you like to enter third-level, but would prefer a part-time option due to work/family commitments, or just as a 'taster' and as a possible route toward Degree?
Or are you a practicing artist who has encountered the potential of textiles methods and concerns in the development of your work, and would like to gather skills and knowledge in the textiles area as a kind of post-grad option?
In the Crawford we have combined Fine Art Textiles modules taught as an option to our Degree students with new modules in textiles history and critical theory. Our Fine Art Textiles course makes these available to part-time students, to provide a challenging course to answer many perceived needs.