CIT Launches New Programme in Digital Marketing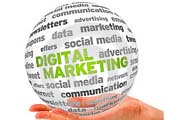 Published on: Monday, 12 May 2014
To apply for CIT's Certificate in Digital Marketing Programme visit www.cit.ie/course/CRBDMRK8. The closing date for applications is 31st August 2014.
CIT's School of Business is launching a new part-time Level 8 Certificate in Digital Marketing Programme, commencing this September.

The Certificate in Digital Marketing is a 15-week, part-time, course entailing lab work, seminars, and live-case work. It has been designed to provide the knowledge, skills, and confidence, required to successfully compete, and market business in a digital environment. This short programme uses an innovative blend of real-world situations and problems to assist participants in exploring the opportunities of the digital environment.

Participants will explore various social media platforms, website technologies (including mobile), analysis tools and much more in developing a toolbox of skills that is valuable and readily usable in both B2C and B2B environments.

Dr Pio Fenton, Head of Department of Marketing and International Business at CIT said: "The programme is ideal for any business that has been finding it hard to integrate new marketing media into their existing marketing strategies. The grounded skills are developed and underpinned by a real work focus in the programme throughout".

CIT offers a wide range of innovative courses covering areas such as science, engineering, business studies, humanities, music, art and design. Courses are offered at all levels from Higher Certificate to PhD, full-time or part-time.