Indoor Navigation Start-Up At CIT Targets Large-Scale Events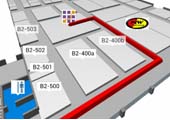 Published on: Friday, 16 May 2014
For more details on Show guider visit www.showguider.com

Finding one's way around large buildings can be a frustrating experience - but an new indoor navigation system from a CIT start-up is set to change all that. As GPS doesn't work indoors, clever algorithms combined with a range of radio and sensor data locate mobile devices to within a couple of meters.

Showguider is initially targeting its indoor positioning and navigation systems at large-scale trade shows. The company's smartphone applications guide visitors quickly and easily to their destinations with interactive 3D mapping and dynamic content. Based on technology developed in the CIT Nimbus Centre for Embedded Systems research, it is CIT's first spinout company to receive seed funding from the Enterprise Ireland Competitive Start Fund.

Tens of thousands of very large-scale exhibitions and events are held each year and the ability to guide visitors through sprawling venues to find particular exhibits is extremely useful. Showguider's system offers tiered feature levels to suit every event – and is already attracting interest from show organisers in China, Germany and the Middle East.

The system was awarded first place in the infrastructure-free division of the IPSN Microsoft Indoor Localisation Competition in April 2014, held in Berlin. The team came second overall, beating all but one participant, who used proprietary electronic systems infrastructure for localisation rather than being infrastructure-free.

Enterprise Ireland's Competitive Start Fund accelerates the growth of start-up companies that have the capability to succeed in global markets.