Student from University of Ulster scoop top prize at Enterprise Ireland >Student Entrepreneur Awards 2014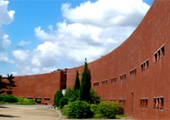 Published on: Sunday, 15 June 2014

Little Deli wins €10,000 prize and title 'College Entrepreneur of the Year 2014'
Three High Achieving Merit Award Winners from UCC, UL and UCD
Alexandra Milne a students from University of Ulster has today won the Enterprise Ireland Student Entrepreneur of the Year Award and been named 'College Entrepreneur of the Year 2014'. This year celebrates the 32nd year of these prestigious awards which are co-sponsored by Invest Northern Ireland, Cruickshank Intellectual Property Attorneys, Intel and Grant Thornton and are open to all third level colleges across the Island of Ireland.
The awards were presented by Tom Hayes, Head of Micro Enterprises and Small Business at Enterprise Ireland and Mr Doug Howlett, from Munster Rugby.
The Enterprise Ireland Student Entrepreneur Awards are part of a major drive aimed at tapping into the potential for students and young people to turn their entrepreneurial ideas into commercial businesses. This is Ireland's largest and longest established third-level student enterprise competition.
The winning team is Little Deli, Alexandra Milne is a student at University of Ulster and beat off stiff competition with her project. The Little Deli is solution that lets customers easily and efficiently pre-order and pre-pay for their lunch from local delis and cafes, at their own convenience. By ordering through the App, customers can skip the queue and save their valuable time letting them order from anywhere at any time. By using the app, it enables delis to prepare orders earlier, making their rush hour more efficient, productive and profitable. With Little Deli, both delis and customers win.
The Student Entrepreneur Awards are aimed at encouraging students into business as a career option and this year attracted submissions from over 450 third level students from colleges across Ireland. The substantial prize fund includes €30,000 in cash prizes, and €30,000 in consultancy fees which are available for winners to help them make a serious start at making their idea a commercial reality. In addition to winning the top prize, the winning team will also receive mentoring from Enterprise Ireland/Invest NI to develop the commercial viability of their overall concept.
Eric Risser and Neal O'Gorman TCD and founders of start-up company Artomatix won the inaugural 'Roots in Research' award which was introduced this year by Enterprise Ireland. Artomatix software enables digital artists to make art faster, cheaper and better in movies, games and animations. Presenting the award, Gearoid Mooney, Director Research & Innovation, Enterprise Ireland, said "Enterprise Ireland wanted to highlight the commercial potential of research funded by the Irish Government so we have created the Roots in Research Award. We were looking for students who demonstrated an ability to spot the commercial potential of their research project. Eric and Neal identified a gap in the animation and digital art industry and developed a Texture Synthesis Based Hybridisation for Images and Geometry technology in response. He has since gone on to establish a spin-out company called Artomatix from Trinity College Dublin".
High Achieving Merit Awards were provided by sponsors Cruickshank Intellectual Property Attorneys and Grant Thornton and Intel. The Cruickshank Intellectual Property Attorneys High Achieving Merit Award of €5,000 went to Digital Perception, project from UCD. Cruickshank Intellectual Property Attorneys are also providing intellectual property consultancy and protection for all the finalists and they will also receive a Tablet from Intel.
The Grant Thornton High Achieving Merit Award of €5,000, went to AmputAid from UCC. Grant Thornton will also provide business plan development advice to the finalists and they will also receive a Tablet from Intel.
Intel awarded their High Achieving Merit award of a tablet to Motus from University of Limerick. Intel will also provide mentoring for the students to enter the Intel Challenge Europe Awards 2014.
Finally merits were also given to all remaining finalists and a new Enterprise Ireland Institute Award of €2,000 was awarded to TCD for their outstanding encouragement and standard of applications submitted to the competition.
Tom Hayes, Head of Micro Enterprises and Small Business at Enterprise Ireland a said: 'This competition is focused on giving students hands-on experience in entrepreneurship and establishing a business. This year for the first time the sponsors asked students to submit a video that captures how great their idea is and shows commercial and export potential. This was very successful with a 15% increase on last year's submissions. Other features of the competition includes a website, facebook page, twitter account and pod casts – reaching out to students in the world that they know best. Throughout the year Enterprise Ireland supported all of the internal entrepreneurship competitions within the institutions on the island of Ireland with a €500 cash sponsorship prize for each college.
Enterprise Ireland and the sponsors are also working with third level students who have an idea to start their own internationally traded service or manufacturing business to develop their ideas further on a continuous basis. It is tremendously encouraging to see their energy and their enthusiasm, and I congratulate all of them on their achievements'.
Congratulating the award winners on their success, Stephen Wightman, Invest Northern Ireland's Head of Employment & Enterprise, said "Competitions like this can act as an important springboard for tomorrow's business leaders and provide a platform for our young people to demonstrate their highly innovative concepts and commercial skills. Invest NI is pleased to play a part in promoting and encouraging entrepreneurship and is committed to supporting our young entrepreneurs achieve their full potential."
For more information on the Student Entrepreneur Awards visit www.studententrepreneurawards.ie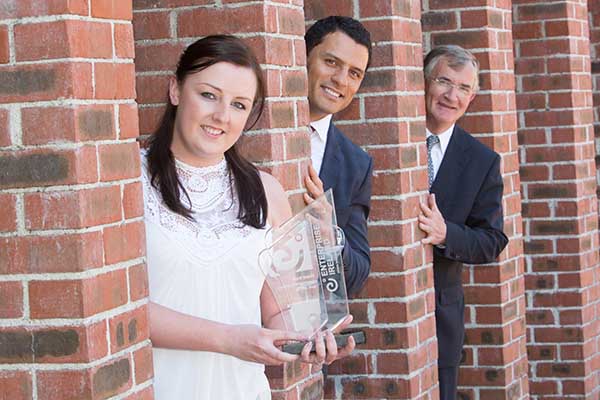 Rebecca Robinson, CIT; Doug Howeltt, Munster Rugby; and Michael Delaney, Vice President for Development, CIT; at the Enterprise Ireland Student Entrepreneur Awards 2014.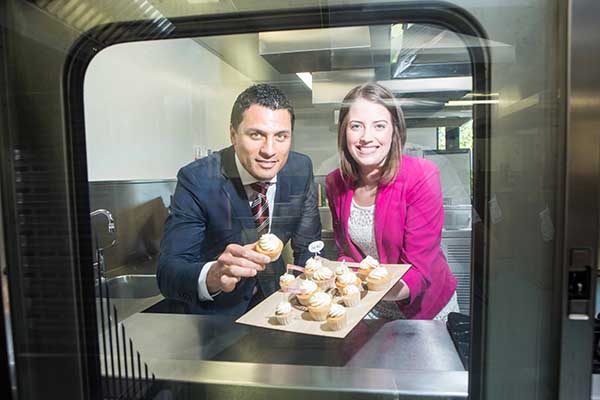 Doug Howlett, Munster Rugby; with the winner Alexander Milne, From University Ulster at the Enterprise Ireland Student Entrepreneur Awards 2014.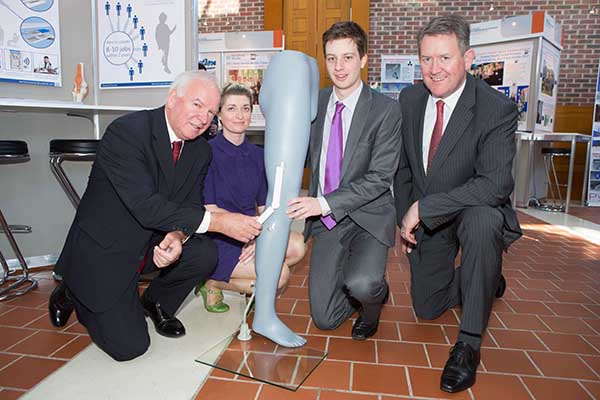 Tom Hayes, Enterprise Ireland; Muireann McMahon and student Darren O'Connor from MOTUS, University Limerick; and Paul Phelan, Intel at the Enterprise Ireland Student Entrepreneur Awards 2014.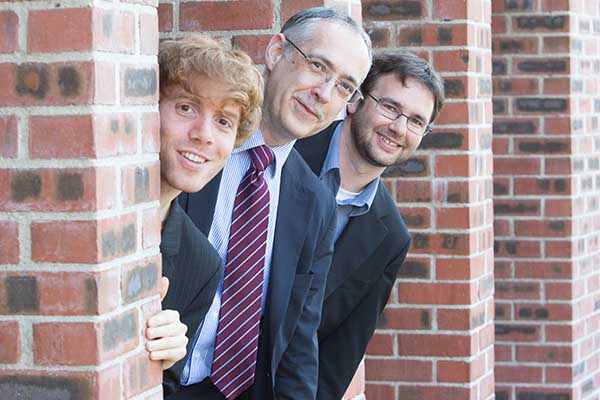 Gearoid Mooney, Director, Research Innovation Enterprise Ireland; with Trinity College students Eric Risser and Neal O'Gorman, Artomatix who won the Roots in Research award at the Enterprise Ireland Student Entrepreneur Awards 2014.
Image credit: Darragh Kane