CIT Leading A National Education Revolution > Enterprise and Entrepreneurship A Vital Lifeskill for Next Generation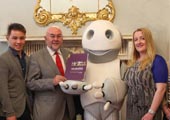 Published on: Tuesday, 24 June 2014


Minister for Education and Skills, RuairÍ Quinn T.D., has acknowledged the role of Cork Institute of Technology in revolutionising education in Ireland.

Over the last 6 years, CIT has worked with 7 other Irish Higher Education Institutes as part of the ACE (Accelerating Campus Entrepreneurship) Consortium, to introduce enterprise and entrepreneurship education in non-business courses.

"We all know that business students learn valuable financial and management skills. But it is also vital that those studying other disciplines such as engineering, creative industries and healthcare, learn essential business skills. By learning to think in an entrepreneurial way, graduates are better prepared for the world of employment or self-employment" said Gerard O'Donovan, Head of School of Business, CIT.

At the ACE Conference at Farmleigh House on Monday 23rd June the CEEN (Campus Entrepreneurship Enterprise Network) was established. This will provide a network for educators to share resources and support the introduction of enterprise education in non-business disciplines across their campus.

In addition to driving the entrepreneurship agenda in 3rd level education, the CEEN will work with primary and secondary educators to integrate entrepreneurship and enterprise education into Irish education.

"Irish education must be innovative. It needs to adapt to meet the changing needs of graduates. It is not enough to teach technical skills. Entrepreneurship is a mind-set. It is a suite of skills. It is an ability to assess problems and find solutions. By teaching entrepreneurship, we give our children the toolkit they need to design their own future. This is the era of the "Entrepreneurial Graduate" in Irish Education and CCITis proud to lead the way in this major educational change" concluded Mr Gerard O'Donovan.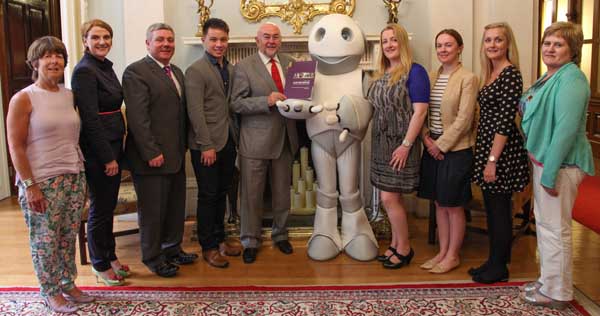 The Cork Institute of Technology team led by Breda Kenny with Minister Ruairi Quinn at the Accelerating Campus Entrepreneurship Conference at Farmleigh. Minister Quinn praised the work of CIT in driving forward the enterprise education agenda across all disciplines.
Niall Carroll Photography
.....................................................................................................................................................................
About ACE:
Accelerating Campus Entrepreneurship (ACE) is an active collaboration between 8 Institutes of Technology across Ireland.

The primary objective of ACE is to produce "Entrepreneurial Graduates". This is achieved by actively and deliberately delivering Enterprise and Entrepreneurship Education to students in non-business programmes in the third level sector.

ACE brings together the educators and Institutes from right across the country to work in an innovative and collaborative manner on order to achieve their goals. Institutes include: Blanchardstown Institute of Technology, Cork Institute of Technology, Dublin City University, Dublin Institute of Technology, Dundalk Institute of Technology, National University of Ireland Galway, Dun Laoghaire College of Art and Design and Sligo Institute of Technology.

To date ACE has been funded by the HEA and from 2014 ACE will self-fund.
ACE reflects emerging national strategy for promoting and developing entrepreneurship education, at third level, and aligns to the Hunt Report (2011) and Report of the Entrepreneurship Forum (2014).


ACE - Current Projects:
Creation of a Level 9 Entrepreneurship Educators Module.
Collaboration with QQI on formalising Enterprise and Entrepreneurship Education (EEE) Guidelines.
Supporting the development of campus based Student Enterprise Societies
Development of a website and online repository for sharing and accessing educators resources.
Initiate steps to establish a National Professional Body for Entrepreneurship Educators

ACE - Planned Projects:
• Development of an Enterprise and Entrepreneurship Policy for the Third Level sector.
• Continue collaboration with HETAC (QQI) on EEE guidelines.
• Continue to embed EEE into non-business programmes, cross facility/cross disciplinary.
• Wider engagement with industry and the business community.
• Running the National Entrepreneurship Educators Programme
• Continual enhancement and resourcing of the website and online repository.