Treasure Island > Daily Performance at CIT Blackrock Castle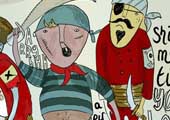 Published on: Tuesday, 15 July 2014
Please click here for detailed information and to book tickets
Loot, plunder, pillage and play at CIT Blackrock Castle Observatory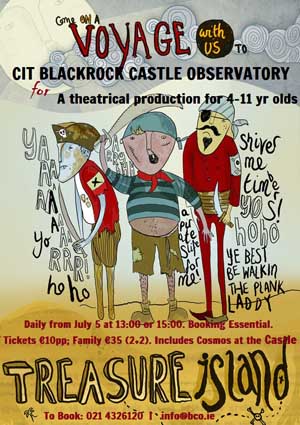 Meet Long John Silver, Jim Hawkins, terrifying pirates and talking parrots and search for hidden treasure at CIT Blackrock Castle Observatory this July and August. Treasure Island - will bring families on a magical journey of bloodthirsty adventure in Cork harbour's most famous historical site.
The actors use storytelling, song and interactive sequences to create this imaginative adventure where children and adults will become villains and heroes taking on the tale's characters.
Starting on July 5, Treasure Island presented by Jabberwocky, The Chameleon Talking Theatre of TipTop Tales, will run twice daily for 1 hour at 13:00hrs and 15:00hrs. Places are limited so booking is advised.
Tickets are €10 each or €35 for a family ticket (2adults & 2kids). 3 year olds and under are free. Your ticket also includes entrance into Cosmos at the Castle & a Planetarium Show.