CIT offers new MA in Play Therapy > three-year part-time programme, held on Saturdays.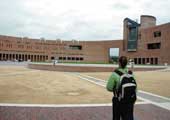 Published on: Monday, 21 July 2014
Twenty places are available.

Please see click here for detailed information and application details.
Do you have experience working with children and a relevant honours degree in the area? You might be interested in a new MA in Play Therapy at Cork Institute of Technology on the Bishopstown Campus. This programme is a postgraduate clinical training in Play Therapy. The MA will equip practitioners with the advanced knowledge and clinical capability, which will match international standards of best practice within the Play Therapy profession.

Graduates will be eligible for membership of the Irish Play Therapy Association (www.ipta.ie) on successful completion. Until the development of this training in CIT, IPTA had only accepted membership from Play Therapists who had undertaken training accredited by the British Association of Play Therapists (BAPT).

It is a three-year part-time masters degree, held on Saturdays to facilitate those working full time. Applicants will be required to attend an interview, which will take place in mid September.

Career opportunities include private practice as a Clinical Play Therapist or Child and Adolescent Mental Health Services within the HSE.

Other opportunities may include Play Therapist within the school setting/early years setting; Play Therapist within the homeless services; Play Therapist in community projects and Family Resource Centres and Expert witness in court proceedings.

Graduates who successfully complete the MA in Play Therapy will have the specialised expertise in an emerging field of research, which in turn, will allow for professional supervision in niche areas.